Recycling at the landfill
Terrafirma Equipment supplies SBM mobile crusher to help recycle mixed C&D waste in Alberta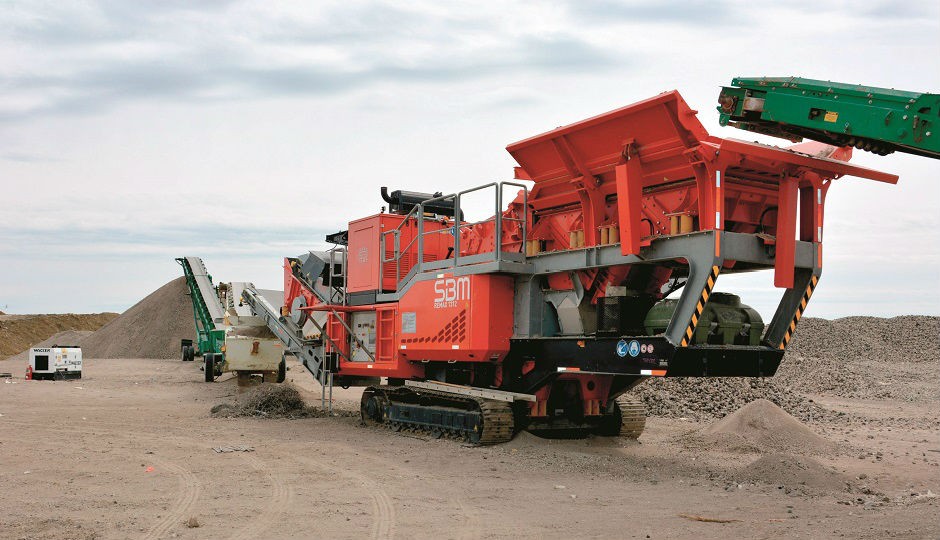 A significant amount of materials (approximately 78 percent) that come into the Lloydminster Sanitary Landfill are recycled, including household hazardous waste, lead paint, used oil, appliances, batteries and electronics, cardboard and blue-bag recyclables, as well as metal, soil, wood and C&D mixed concrete and asphalt.
According to Karen Dela Rosa, general manager of waste services, Lloydminster Sanitary Landfill, the overall strategy behind running a landfill has changed somewhat over the last decade. It is not as much about simply collecting and then "burying" high volumes of waste as it once was.
"Part of our philosophy in running this landfill is to divert as much material as we can. Materials recovery is a very big part of our philosophy. So much of the materials received are a recoverable resource, meaning there's a lot of opportunity," continues Dela Rosa. "Landfill space is very expensive. With these types of materials that are recoverable, we do generate some revenue. Plus we are saving our landfill space. The philosophy of landfilling overall definitely has changed in the last couple of years."
Mixed concrete waste recycling
When it comes to incoming mixed concrete and asphalt waste from local demolition projects and construction/renovation sites, Lloydminster landfill bulk recycles approximately 40- to 50 thousand tons annually.
"This is the tenth year that we have been crushing and recycling our concrete. Previously concrete and asphalt was landfilled," says Dela Rosa. "Concrete and asphalt decrease the pH of the landfill, which also affects landfill leachate. Of course, the other significant thing about concrete and asphalt is that it takes up a lot of space, which is at a premium.
"We recognized the fact that this is a reusable material. For over ten years we have been working with Dean Dube and Double D Bobcat Services & Contracting, to try to come up with a usable product. And this is what they have been doing for us so far."
Double D Bobcat Services & Contracting, Ltd. based out of Cold Lake, Alberta, started in the late 1970s as a civil works contractor, working on site preparation for commercial sites, landscaping and earthmoving work. The company broke into the recycling business in 2003, initially using a CEC crushing plant for processing C&D debris.
"In our area, we were running short of natural products. We were introduced to crushing and we started with a CEC impactor for crushing concrete and asphalt," says Dean Dube, owner of Double D. "We had been crushing previously in partnership with a local crushing outfit, but it had to be no steel in the concrete and no impurities." Dube says their CEC machine is still running for them today as a secondary machine.
"Now, we can take materials that have some reinforcement steel in them. Mesh, rebar, that type of material, and we're actually able to clean it up, and use the grind product instead of having to put it into the landfill."
The REMAX 1312 mobile impact crusher
This past winter, Dube sold one of his older crushing units and was then left without enough "iron" to fulfill his contract with the City of Lloydminster Sanitary Landfill. Dube was in touch with Erich Janke, owner of Terrafirma Equipment Sales & Rentals based out of Edmonton, who had told him about a new machine they were carrying. Manufactured by Austria-based manufacturer MFL-SBM, Janke had a mobile crusher available that would be ideal for Dube's needs for crushing mixed concrete and asphalt waste at the Lloydminster landfill.
Janke says the REMAX 1312 ECO/MAXI track-mounted mobile impact crusher (shown top) is a proven model in the European market but is new to the Canadian market. "The REMAX 1312 not only produces a superior final product but its efficient diesel electric drive greatly reduces fuel costs."
"Dean Dube and Double D Bobcat have a long standing business relationship with Terrafirma Equipment," Janke continues. "He is a valued client and a successful contractor with lots of crusher experience. He could see the value of utilizing the REMAX 1312 and understood the associated benefits."
Since mid-April, Double D has been using the SBM REMAX 1312 ECO/MAXI track-mounted mobile impact crusher, and has processed over 30,000 tons of incoming mixed concrete and asphalt to specification, which translates to approximately 1,300 to 1,400 tons per day going through the REMAX 1312 crusher. Processed material is stockpiled on site, ready for hauling.
"At Lloydminster landfill, we are using a McCloskey jaw crusher in front of the REMAX 1312 to limit wear," says Dube. "I've also used it on a job in Edmonton without a jaw in front of it. It was very impressive without it as well. It has a pan feeder underneath, so it is pretty forgiving underneath the mill. This has proven to be quite valuable. You don't have to worry about your rollers underneath, or punctures in the belt."
"The material we receive out at Lloydminster landfill comes from all different kinds of sites, some concrete plant washout, various demolition sites. We get sidewalks, curbs, gutters and old basements. When they're rebuilding roads, they bring asphalt out.
"Part of our philosophy in running a landfill is to divert as much material as we can. So much of the materials received are a recoverable resource, so there's lots of opportunity. " Karen Dela Rosa
It's a fairly good mix of everything, from around Lloydminster, the Alberta side and the Saskatchewan side."
"It goes into new roads, back into water breaks. After they dig up a water break, the material is wet and sloppy so they can backfill with our recycled concrete. They absolutely love it."
Dube says for their operation at Lloydminster they also use a J50 McCloskey jaw crusher, 7-yard loader and a LinkBelt excavator with a 48-inch digging bucket. One of the great features Dube points to about the REMAX 1312 crusher is its easy-to-use touchscreen and operation.
"It's got load-sensors everywhere, so if you start overfeeding the impactor, the feeder will slow it down, and shut it down so that you don't damage anything or stall it out," says Dube. "It also only runs at about 1,500 rpm. A lot of crushing plants are 1,800 or 1,900 rpm, so we do see fuel savings."
Focused on recovery
With a recyclable material like mixed C&D concrete, "there are a lot of variables," says Dela Rosa. "There's variables to the feedstock, to weather, if it's too dry, and there are other variables. Currently, our specification is two inch grind size, and we conduct a sieve analysis to ensure we're within product specifications."
Dela Rosa adds that future plans at the Lloydminster landfill include more of a focus on resource recovery. "We're doing some experiments on how to recover some of the other material that is currently going to landfill, especially in the C&D sector." She adds that their focus on increasing C&D waste diversion is partially due to a booming C&D sector, and partially because the majority of tonnage received is coming from institutions and the commercial sector.
"About 65 percent of what we landfill is actually coming from the commercial and institutional sectors, from oilfield, construction and demolition companies, and we see a lot of potential in the C&D market with respect to what we can separate and what can possibly be processed and put to beneficial use."
According to Dela Rosa end markets for their C&D processed materials vary and it depends of course on the material – whether it be wood, shingles or drywall.
"For processed concrete, there's a fair bit going to our street improvement program, and also into our water and sewer mainline repairs. We're using most of it internally, within our city."
Janke agrees that the future of sustainable materials recovery in Alberta is full of potential. "Terrafirma Equipment believes it is essential to seek more sustainable solutions for the future," he says. "It is our responsibility to provide equipment that not only turns out a profit for our clients but also takes the utmost care of the environment. This equipment – the MFL-SBM REMAX 1312 mobile impact crusher – will play a vital role in increasing standards when it comes to the aggregate processing and recycling industries."