American Tire Recycling Group, Miami, FL Announces Expansion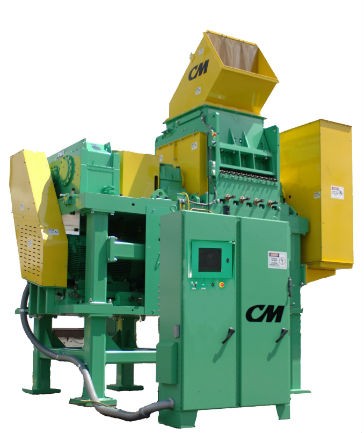 American Tire Recycling Group (ATRG) located in Miami, FL, is expanding its facility and making some big changes to its tire recycling line of equipment. ATR is a producer of rubber products including tire derived fuel (TDF), rubber mulch, crumb rubber and rubber used in rubberized asphalt concrete (RAC). The company was started as a collaborative effort of three Latin American groups looking to make a positive environmental impact in South Florida.
Over the past four years, the company has significantly increased its tire collection market going from 7,000 to 28,000 tires per day. They have achieved significant growth and high level of success within the rubber products marketplace. However, limiting their growth was their existing equipment. Barry Kauffman, one of the Principles stated. "In order to expand our markets and increase our distribution channels, American Tire had to invest in new equipment that would produce the end products that the market demands at increased volume, lower costs and less downtime." Kauffman adds, "The equipment has to be dependable and be supported by a world class equipment provider."
After months of extensive research, detailed discussions with industry professionals and numerous site visits, ATRG has made the decision to replace their existing shredding and steel liberation systems and has chosen CM as their new equipment provider. CM is in the process of delivering two Dual Speed Tire Shredders that will be used to supply the company's TDF markets with clean cut and consistently sized tire chips. CM will also deliver a 4 Rotor Liberator that will be used to make high quality steel free, crumb rubber for their rubber mulch product and clean feedstock for downstream processing. By replacing the shredding and steel liberation systems the company will be able to triple their productivity and be able to supply the best tire chip quality for their TDF customers. The 4R Liberator will increase the amount of volume of crumb produced and do an exceptional job of steel removal that will provide American Tire with clean feedstock for further processing into granulate and rubber powders for RAC.
Charles Astafan, General Manager of Columbus McKinnon Corporation stated that, "we are very excited for American Tire and are honored that they have chosen CM and we welcome them to the CM family." He adds. "The system we are providing conforms to American Tire's stringent specifications and allows them to enter the TDF market and drastically increase their volume of coarse ground and fine rubber markets." To insure ATR's success CM has entered into a maintenance agreement and will be on site to oversee knife changes as well as provide inspection of the equipment.
CM's after the sales service and support greatly influenced American Tire's decision to use CM equipment. CM offers an exclusive "In Stock Guarantee" for all normal consumable wear parts. This exclusive service has been very successful and beneficial for all CM customers.