McNeilus Introduces Meridian Front Loader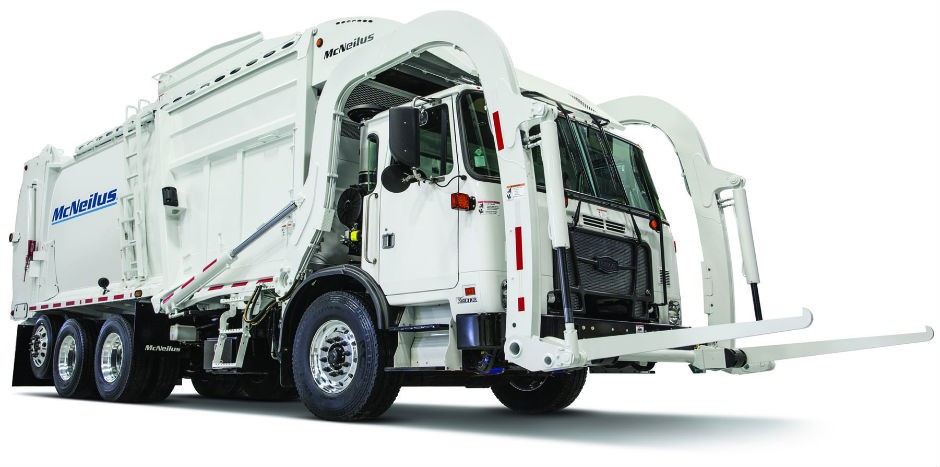 McNeilus Truck & Manufacturing, Inc., an Oshkosh Corporation company, has unveiled the newest addition to the McNeilus lineup of refuse vehicles – the new Meridian front loader.
At a base body weight of 16,800 pounds, an industry-leading 14-ton payload and rated to lift 10,000 pounds, the Meridian is the perfect balance between lightweight and heavyweight to deliver advanced hauling performance for commercial and residential applications. The Meridian's innovative design combines lighter weight materials with construction that's durable and strong.
Developed with easier access and serviceability in mind, the Meridian features a clear headframe, underbody hydraulics and an electrical sidewall panel. Hydraulic valves have been relocated under the body rather than the typical placement on the headframe, eliminating problems caused by potential leaks and providing protection from hot exhaust. An enclosed sidewall panel houses the electrical components, keeping them away from heat and any refuse debris.
"The Meridian hits the productivity sweet spot our customers need with its reduced body weight, and increased lifting and payload capacities," said Brad Nelson, president, McNeilus Truck & Manufacturing and Oshkosh Commercial Segment. "It was built by leveraging our proven technology, expertise and most importantly, customer input."
Along with its unique design features, the Meridian incorporates other revolutionary McNeilus technology. McNeilus CODE (controls on demand environment) comes standard in the new front loader. This simplified CAN-based control system provides superior diagnostics and troubleshooting capability at the operator's fingertips. The powerful system reduces hardware requirements and saves time with an integrated "smart" fuse panel, intuitive display, adjustable parameters and features such as pre-trip reminders and vehicle status messages.
The Meridian is also available with McNeilus' NGEN Tailgate CNG system. This system is offered in 60, 75, 90 and 105 DGE capacities and includes several unique benefits, such as:
A Pressure Relief Device (PRD) system that provides continuous heat protection along the full length of the CNG tanks, which is standard in all NGEN CNG configurations;
McNeilus Strike Protection, providing a sturdy steel covering that surrounds key components;
Toolboxes integrated into the tailgate that free up space on the frame and provide storage;
Ground Level Fuel Shut-Off that allows operators or maintenance personnel to manually stop the flow of fuel at one convenient location;
Tailgate props designed for easier deployment and access; and
A pivoting structure that simplifies inspection.
Other features of the Meridian include:
Non-sliding tailgate that means less wear on the tailgate seal and tailgate props that offer easier access between the tailgate and body;
Flat body floor design that helps increase payload capacity and allows for easier access and quicker service of underbody components;
Largest hopper access door available for easier cleanouts, and curbside location that offers better access;
Angled mid-post to help channel arm force appropriately, contributing to a stronger body design;
Excalibre packing cylinders that improve reliability and performance, and prevent hydraulic contamination.
"We designed the Meridian by listening to our customers who want improved productivity, safety and serviceability, and validated the front loader through rigorous lab and field testing," said Greg McCarty, McNeilus director of product management. "The Meridian – like all of our vehicles – also comes standard with our expanding network of customer service centers across North America."
Related Articles
Traditionally, waste management companies have operated using a simple "management of waste" approach to operating a MRF. Throughput targets and continuous operation (minimal downtime) were the main driving forces. The industry has changed however, and the focus moving forward is now on optimizing system performance and reliability, in conjunction with increasing recycling rates and a drive for a "greener" and more sustainable tomorrow.
When considering the addition of, or upgrade to, an "intelligent" MRF, for municipalities or private operators, the main factors should always be the client's (operator) current requirements, and evolving market needs, which include throughput, reliability, output quality, and adaptability. Equally important is a full understanding of what is really expected from any proposed system. Having an engaged and focused mindset for the project with the client from the beginning, will impact and drive the entire design process. This then impacts the overall project result, through to the productive, efficient, ongoing operation of the facility itself.