Impact Bioenergy and Vertal announce distribution agreement for CityPod on-site composting systems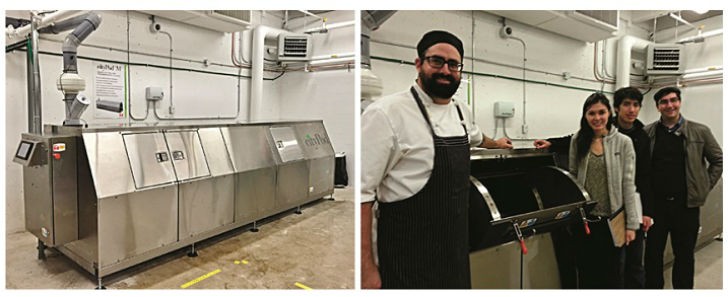 In February, Seattle-based Impact Bioenergy completed a distribution agreement with Montreal-based Vertal Inc., manufacturer of the CityPod on-site composting system. CityPod comes in four sizes ranging from 720 to 5,850 pound-capacity per week, at a rated 42 days of process residence time. The systems are ideal for restaurants, campuses, resorts, hospitals, casinos, conference venues and other facilities where zero-waste practices are in place and compost can be used beneficially.
CityPod systems are totally self-contained, taking food waste and paper products all the way to finished compost. Units use 208 volt 3-phase or 240 volt 1-phase power and exhaust air and moisture through a PVC pipe, much like a dryer vent. The control system is web-based for remote monitoring via computer or smart phone. These systems are constructed of stainless steel, include a highly advanced odour control system, and come with an odour-free operation guarantee. On-site composting eliminates the nuisance of dumpsters that leak liquids and attract insects, birds and other animals, and food waste goes into the system immediately without requiring storage. The compost that comes out of CityPod is cured and ready to use. The system runs automatically, with low operating costs and has no regular wear parts that need replacing.
More from Organics Recycling
Single-Ram and II-Ram High-Capacity Balers
At Machinex, we've been designing sorting systems for over 35 years, so we know how essential it is for MRF operators to have a baler they can trust and not worry about its operational reliability. This is why we design and manufacture reliable single-ram and II-ram high-capacity balers to specifically help optimize their operations.
Watch the video of our expert who presents the main features of Machinex balers delivering these important benefits:
Easy & accessible maintenance
Reduced maintenance & bale handling costs
Energy savings
Optimal bale density
For C&D recyclers, waste haulers, demolition contractors and landfills, there is a growing opportunity to profit from rethinking processes. Although every operation is different, by streamlining the front end of the C&D operation processes with purpose-built technologies, recyclers can tap into new end markets, accommodate higher material volumes, stay ahead of regulatory restrictions, increase recovery rates and add commodity revenue, while decreasing labor and other costs.
Download the new eBook to learn about:
Finding opportunities in the alternative to landfilling C&D
How facilities can increase their profits from C&D
Using the right C&D processing technology in the right locations