Terex Environmental Launches Slow-Speed Shredder and Mobile Trommel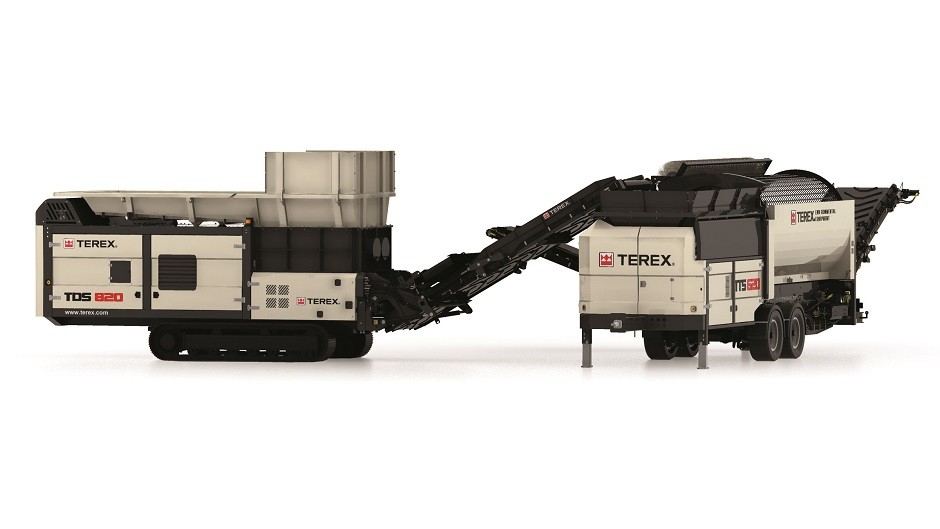 Terex Environmental Equipment launched two new products in early 2015: the TDS 820 slow-speed shredder and the TTS 620 trommel screen.
"We are excited to add these two new machines to our product portfolio," said TEE global business line director Tony Devlin. "We have listened to our customers and both products are full of new features. The TDS 820 is a versatile slow-speed shredder with six programs to suit customer application. The TTS 620 trommel screen will continue to push the boundaries in the mobile trommel screening industry. The launch of the new machines follows a stringent development cycle, having been tested and proven in a diverse range of product applications."
TDS 820 slow-speed shredder
The TDS 820 is a versatile slow speed machine for shredding all types of material utilizing the same shredding tool. There are three standard programs pre-installed and three further programs that can be configured by the customer to suit the application.
Key features include a hydrostatic drive that allows better protection against contamination and enables shafts to be easily reversed. This double-shaft shredder has two 2,000-mm long counter-rotating shafts, allowing more aggressive intake and high throughput with the desired particle size.
The TDS 820 slow-speed shredder provides throughput of up to 60 tph, depending on the application and shredder configuration, and independent gearboxes enable each shaft to be run independently to reduce wrappage and improve the shredding of material. Units also include a tipper hopper that increases the feed area, with hopper extensions providing increased capacity in bulky applications. The TDS 820 is powered by Scania engines (multiple available) and is offered as both a tracked and wheeled unit. Both configurations allow the machine to be set up quickly onsite. The wheeled version is easily maneuverable, while the tracked version offers a great solution for softer ground or difficult terrain.
TTS 620 mobile trommel screen
The new TTS 620 trommel screen is engineered to offer operators high levels of application flexibility, production rates and serviceability. A highly efficient engine and hydraulic drive system combined with an advanced material processing control system offer maximum production combined with minimum costs. These trommels are ideally suited for screening compost, biomass, soil, gravel and waste.
An intuitive push button control panel allows operators to easily configure the machine to suit required applications while an intelligent feeder-control system continually adjusts the feeder speed to optimize screening rates. Change-out time takes just minutes for the screening drum, and the TTS 620 is designed to accept a number of OEM drums.
For easy serviceability, all conveyors use a modular design, allowing each one to be removed independently, and a swing-out engine cradle gives operators unrestricted ground level access to all service components. Additionally, hinged doors on both sides of the trommel drum offer unobstructed access for maintenance and cleaning.
The TTS 620 trommel has been designed to run at a low engine rpm, reducing fuel usage, emissions and noise levels. Both Tier III and Tier IV options are available. Units will be available in wheeled, pintle drawbar, or tracked configurations.