Fabric-covered buildings rise to the challenge for M&M Disposal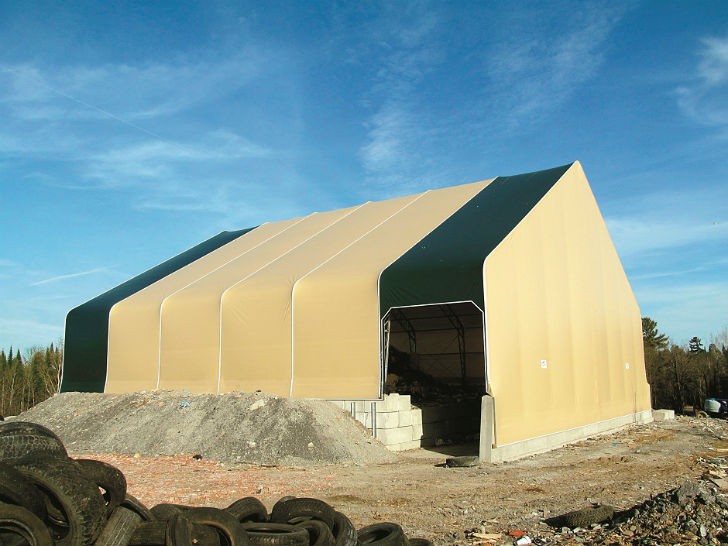 Located in Stirling, Ontario, in the eastern part of the province, Barrett's Farm & Family Centre is a Canadian distributor for Ontario based Calhoun Super Structure Ltd. Barrett's, which specializes in fencing and fabric-covered buildings for agriculture and other industries, has been working with Calhoun since 2010.
"We install buildings, with the option of turnkey installation," explains Richard Barrett, owner. "We do the excavation and concrete work. If buildings are closed-in, we do the doors. We also have a fencing division and so provide all kinds of agricultural and commercial fencing."
Just over an hour to the northwest of Barrett's Farm & Family Centre, M&M Disposal is located in Lakefield, Ontario top of an existing landfill owned by the municipality. M&M receives household and construction industry waste, more than 90 percent of which is recycled. Due to a large "cottage" industry in the surrounding area, there is a great deal of material coming in from old cottages being torn down to make way for new cottages. They use a processing line where material is sent through a "tumbler" and then hand-sorted into bins. Leftover wood waste is chipped and shredded into wood chips, a large portion of which is sold to the waste-to-energy market. Their site previously did not have a dedicated building for their transfer station operations. Due to steady growth over the last decade they needed to update their facility.
In the winter of 2013, M&M contacted Barrett's owner Richard Barrett who subsequently visited the site and came up with pricing and design. The project was begun in September 2013 and completed in February 2014.
The Calhoun Super Structure building installed at M&M's Lakefield site is an 80-foot by 84-foot VP Series (top left), and includes two side entrances (top right) as well as an enlarged front portal entrance (bottom right). The new building now fully houses M&M's transfer station operation.
This is the third building installed by Barrett's Farm & Family Centre in the waste and recycling sector, and Barrett says there are particular challenges unique to the industry.
The biggest challenge on this installation was that the new building had to be built on an existing transfer site while it was in use. M&M receives and ships out up to 250 tonnes of waste materials daily, so a duplicate loading site had to be built during construction.
"We haven't yet had the opportunity to start with a facility from scratch, and had to work around this facility as it was in production," explains Barrett. "This involves logistics challenges. We didn't want to inconvenience the customer, but need to get work done in a timely manner."
"We did not have a large area to work with at M&M Disposal," says Barrett. "For the excavation and concrete work, we finished half of the building, which they could use to store incoming materials, then did the other half while they used the first part, and then built the building overtop. It involved a significant amount of time working when M&M was not open."
Barrett says that paramount to this installation was that M&M needed room inside their transfer station building to work with their mid-sized John Deere excavator, for unloading and loading trucks. The Calhoun building profile allowed for this," says Barrett. "It has one of the steepest profiles in the industry."
After one year of operation in the new building, Barrett says one of the greatest benefits realized so far is simply that M&M's waste is now covered. This means it stays dry, and does not weigh nearly as much as wet material when it comes to transportation off-site. "They were previously paying for a lot of water weight," says Barrett. "They are also now protected from the wind, so materials are not being blown around."
The 80-foot by 84-foot Calhoun Super Structure building on-site at M&M disposal features a rounded shoulder design, uses a pre-cast concrete block foundation with custom corner concrete piers, and includes a drive-through loading bay, 80- foot end wall, an internal splash wall and an enlarged end opening.
According to Calhoun, the opportunities are endless for the use of a Calhoun Super Structure in the waste and recycling industry. The natural light and airflow of a fabric building keeps materials dry and easy to handle and helps lower operational costs by eliminating the need for excess daytime lighting. The absence of internal posts means that users can load, unload and maneuver virtually any piece of equipment within the shelter of the building, and the clear span interior allows for the maximization of storage capacity.
These buildings, with their natural light qualities are also ideal for use in the composting industry, providing storage for a range of materials. Buildings are easily extendable, hot-dipped galvanized framework is available and Calhoun says they require less lead time than traditional buildings when it comes to construction and installation.
Company info
3702 Bruce Rd. #10
Tara, ON
CA, N0H 2N0

Website:
calhoun.ca
Phone number:
800-265-3994
Read more