Enhanced Fines Recovery from Non-Ferrous Stream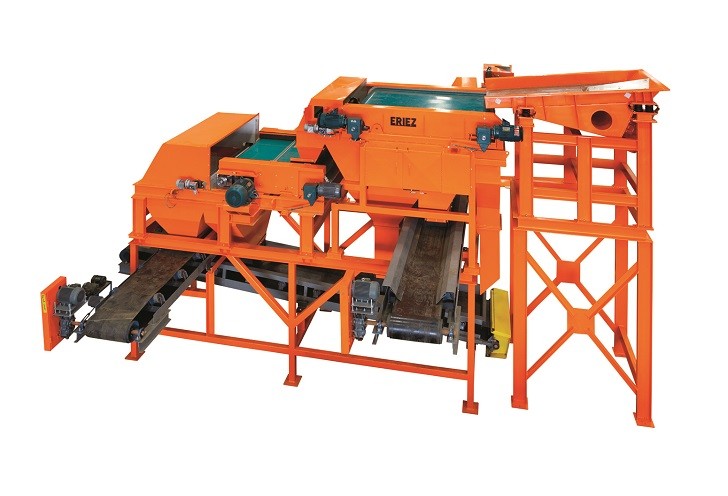 Pennsylvania-based Eriez offers a range of sorting and separation systems designed to enable scrap processors to maximize efficiency and profits in their non-ferrous metal recovery operations, including a wide range of industry-proven eddy current separator models such as the most recently introduced RevX-E, which is designed to provide enhanced separation of nonferrous metals such as mining oil solid waste, bottom ash, commingled recyclables, plastic, glass, foundry sand, electronic scrap and ASR.
Specifically engineered for enhanced fines recovery, the FinesSort Fines Metal Recovery System (right) will effectively reclaim and segregate valuable metal fines from discarded materials, enabling scrap yard operators to recover both ferrous and nonferrous metals from their incoming stream. The FinesSort receives discarded smaller-sized materials (fines) which have already passed through the primary screening process. By utilizing powerful magnetic components, this system is capable of reclaiming thousands of pounds of metals per day.
"Fines that have passed through the initial screening process, and are often discarded and sent to landfills, represent roughly 20 percent of the original total flow," explains Mike Shattuck, Eriez' market manager-metals recycling. "Within the fines, generally less than five percent is recyclable metal, depending on the mix of product being scrapped. While five percent of the fines or just one percent of the total stream may seem insignificant, reclaiming these valuable metals can be worth tens of thousands of dollars annually."
The FinesSort Fines Metal Recovery System can effectively recover metals less than one-inch. With its superior fine particle metal reclamation capabilities, Eriez says this system offers payback as quickly as six months from start-up.
The FinesSort Jr., unlike the standard FinesSort, is an entry level machine for nonferrous fines recovery only, designed specifically to capture materials under one-inch coming from the trommel screen.
DensitySort Air Table
Also available from Eriez, the DensitySort Air Table (above) is engineered to recover 70 percent of red metals from nonferrous fines. The unit sorts nonferrous fines into two fractions: "twitch" (light fraction) and "zebra" (heavy fraction). Nonferrous fines from automobile shredders typically contain eight to 12 percent red metals. By further separating these metals, Eriez says processors can increase their fines' value by more than 20 percent.
The DensitySort uses air, vibration and slope to separate metals of different specific gravities. Material is fed at the low point of the table's slope. Its own specific mass directs the particles into low density or high density collection bins, and middlings are collected and recycled back into the process.
DensitySort is designed to be hasslefree and eliminates the need for sand, water or filtration. With its ability to significantly improve the value of users' fines, Eriez says DensitySort delivers payback in as little as six months.
DensitySort is available with an optional skid-mounted air system. The recommended air system includes a heavy-duty, 60-horsepower, energy efficient blower.