Terex Fuchs Launches New Telematics System for Material Handlers to Help Reduce Cost of Ownership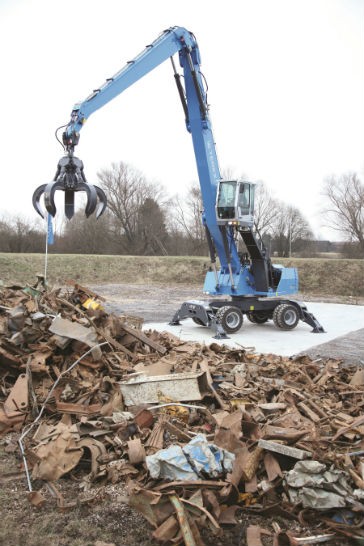 Terex has introduced a new telematics system for all Terex Fuchs E- or F-Series material handlers. The satellite reporting system ties directly into the material handler's dedicated CAN Bus system, and its 32-bit processor quickly delivers critical machine operating data, such as operating hours, fuel level and consumption, handler location, service events, and maintenance notifications, to designated personnel. By providing critical operating data, this new telematics system helps operations to increase machine operating efficiency and control costs.
The new Terex Fuchs Telematics system can be installed at the factory or in the field and can be easily retrofitted to any existing Terex Fuchs E- or F-Series material handler, if desired. System information and reporting is customizable for individuals or groups of individuals, so only data pertinent to that individual/group will be displayed. For companies with machines at multiple locations, groups of machines at a particular site can be segmented into different views to quickly access specific machine information. The system's geofence feature offers machine theft protection by allowing the administrator to set handler operating boundaries.
"This powerful tool can improve machine efficiency, productivity and up-time for operations, and the level of data tracked and reported can help different functional managers in a variety ways," says Steve Brezinski, heavy equipment product manager, material handlers for Terex Construction. "For instance, by quickly responding to service indicators or maintenance interval alerts, service managers can help increase machine up-time and schedule work. Operations and business managers can use machine hours and utilization data as well as fuel consumption reporting for fleet management to optimize placement and deployment of assets and control operating costs."
Terex Fuchs Telematics uses satellite technology to report information to a secured, password-protected website, where it can be accessed at any time, from any location in the world where internet access is available. The user friendly website reports all information in a logical, easily viewable, customizable and understandable fashion. Machine service event reporting can be customized to provide alerts to key company personnel who can address the situation. Terex Fuchs distributors can also receive service information and alerts to assist customers in maintaining peak material handler productivity.