New Terex Fuchs material handler ECO MODE provides up to 36 percent fuel savings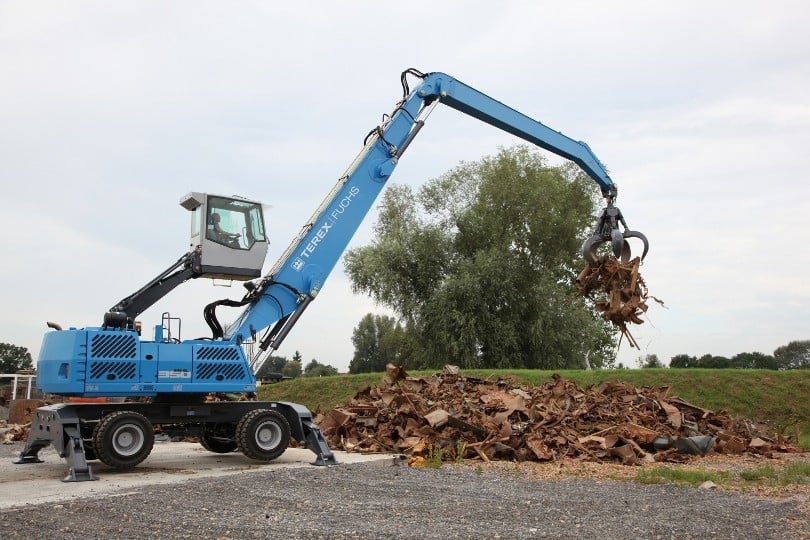 Terex Fuchs E Series material handlers now feature standard Eco Mode operation that provides substantial fuel savings. Conveniently located on the machine's new multifunction button control panel, operators can select either a "Power Mode," "Eco Mode" or "Eco+ Mode" operating setting, allowing machine power output to match the application.
"The Terex Fuchs E Series handlers are designed to be fuel efficient, even at 100% engine speed," says Heavy Equipment Product Manager – Material Handlers – for Terex Construction Americas, Steve Brezinski. "However, tasks like cleaning the yard and sorting material do not require 100% power demand from the engine, and our exclusive Eco Mode settings allow the operator to take advantage of these additional fuel savings opportunities."
Featuring a three-stage engine speed operation, the E Series material handler can be set to "Power Mode," providing the operator with optimal power and speed for heavy-duty applications such as feeding the shredder, loading/unloading trailers and rail cars, or magnet operation. When encountering less-demanding, medium-duty tasks, the operator can simply press the "Eco Mode" button, which lowers engine RPM by up to 12%, depending on the model, and caps engine horsepower at 90%. This delivers up to 27% fuel savings over 100% power, while still offering high lifting and slewing rates.
When the material handler is performing low-demand tasks such as sorting, the operator can choose to switch the machine to "Eco+ Mode" to reduce engine RPM by up to 19%, using 80% of full engine horsepower. This setting is designed to optimize fuel consumption, offering up to 36% fuel savings.
"Until now," adds Brezinski, "material handlers were operated only at full engine speed and power. Terex Fuchs new Eco Mode allows the operator to fine-tune power demand based on need, making the machines more flexible in reducing overall operating costs."
The exclusive Eco Mode operation is being rolled out as standard on all new Terex Fuchs E Series material handlers in the third quarter of 2014. This initially includes the popular MHL340, MHL350 and MHL360 models and will be expanded to other models within the Terex Fuchs line as they switch over to E Series production.
For more information about the Terex® Fuchs material handler line, visit www.terex.com/construction.
Company info
Related products