The Changing Face Of E-Waste Recycling
Sims Recycling Solutions is leading the way into globalization of the business and towards an increased focus on asset management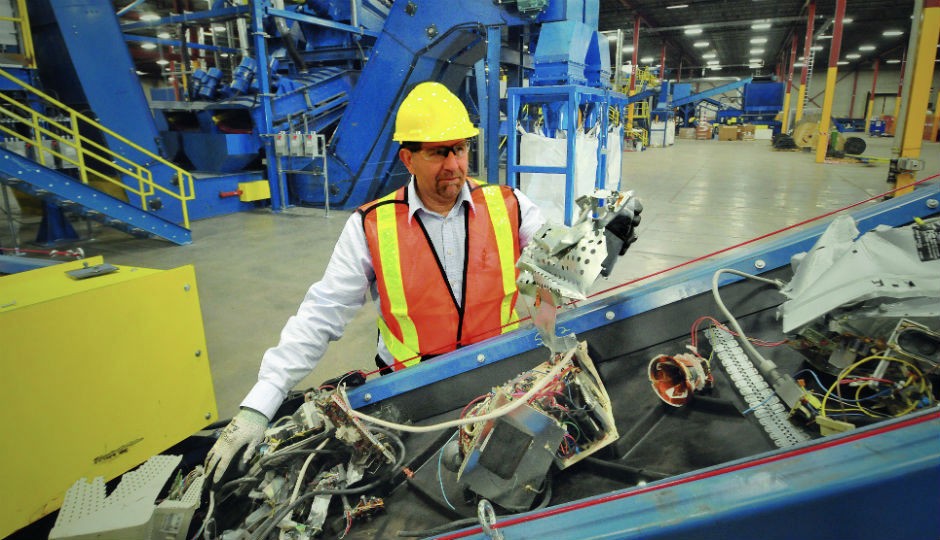 Sims Metal Management has been in business for approximately 100 years. The company, with headquarters in New York and Sydney, Australia, specializes in ferrous and non-ferrous recycling, processing approximately 40 million tonnes of material worldwide on an annual basis.
Sims Metal Recycling Solutions, part of Sims Metal Management, is focused entirely on e-scrap, with headquarters outside of London, England, and American operations based out of West Chicago.
"Sims Metal Management used to handle some e-scrap, but in 2002 the decision was made to start a separate, dedicated business – Sims Recycling Solutions – to go specifically after the e-scrap market," explains Sean Magann, the company's VP sales and marketing. "It used to be that e-scrap was handled as simply another type of scrap. Today, e-scrap is typically processed in a different environment from ferrous and non-ferrous metals."
"There is a scale to what we do at Sims. By having large facilities capable of processing a large amount of materials, we are able to drive costs down. More importantly, one of the things our customers are looking for, and something I have seen in the three years I have been with the company, with respect to an international footprint, is an increase in customers wanting us to handle their scrap on a worldwide basis.
"In the past, if you were 'XYZ' Company, you would have a presence in the U.S. and you would let your European counterparts handle the European scrap, the Asian companies would handle the Asian scrap," says Magann. "But in the last three years we've seen more and more Fortune 500 companies come to us and say: 'We can't just focus on the U.S. material or the North American material, we need help in Indonesia, Greece, etc.' Today, we provide services worldwide, in more than 20 countries, which is really resonating with customers."
In the U.S., Sims Recycling Solutions has eight recycle plants strategically placed near population centres, including Chicago, Los Angeles, the Bay area (where Magann is based) and in Florida. The company uses a fleet of trucks and roll-off containers to collect and haul in materials, which usually come wrapped on pallets.
"That's one of the differences between us and our 'cousins' in metals recycling," says Magann. "We typically don't take in loose material.
"Once material comes into our site, it'll get weighed and there will be a 'piececount' by pallet. If the customer sent in 100 pallets, we want to verify that 100 pallets have been received. We'll also scan asset tags or serial numbers.
"Materials then go through a kind of 'triage' where it can be designated for resale, with a customer's permission. We wipe the data completely and resell hard drives and components, often on an online marketplace such as eBay.
"For material that is not eligible for resale, it will go through our mechanical processing. We'll shred the material and use a magnet to pull out the steel. We use an eddy current to separate the aluminum from the plastic, and we use picking lines where employees will go through the plastic stream to pick out any metallics that are still there. Each one of the specific constituents – the plastic, the steel and the aluminum, will go to a certified processor somewhere in the world."
Asset management
"Metals recycling is definitely in our DNA. It's where we started from. We grew into electronics recycling. Over the years, we've seen the need and desire from our customers to do more at the 'front end' – more of what is referred to as asset management.
"We think about it from an environmental standpoint. As efficient as recycling is, there is still energy used in fabricating metal and no systems are 100-percent perfect. Asset management is probably the most efficient way to handle materials. We bring items in, we scan serial numbers and resell components with the permission of our customers. If we can resell hard drives and computers, after wiping it of all data, that's the truest form of recycling and there is great value back to our customers. So we've moved further and further into this space."
Magann continues: "Today, we see less and less of the traditional PCs and laptops. There is more and more focus on using tablets and cell phones. And a lot of data is stored in digital warehouses (data centres) and so we are doing more and more work with data centres. We'll take a truck out and shred thousands upon thousands of hard drives, crush them all on-site and create commodities value on the back-end. We are still doing the recycling, it is still the core of our business, but we are trying to get more onto the front-end as well and it is going quite well."
The importance of certification
Magann says at Sims Recycling Solutions, they are big fans of e-Stewards certification, and that all of their sites in the U.S. are certified.
"E-Stewards certification does a couple of things," says Magann. "Basically, the main thing is that it certifies what we already do. It really hasn't changed our practices significantly, but it does apply a 'badge' to what we do.
"Especially in the U.S. there's weak federal legislation on the export of scrap, compared to places like Canada, where the regulations are a bit stronger. In the U.S. there are a lot of holes for people to use the recycling sector to export materials and have them recycled in countries where labour rates are very low, and environmental standards are very low. So, certification really helps fill that vacuum."
At many of their facilities, Sims is certified to the R2 standard as well as e-Stewards.
"This goes back a few years, but those that initially favoured the R2 standards in general were the companies such as HP, Dell and other manufacturers," explains Magann. "Those that use electronic products, such as insurance companies and banks, etc. they tended to favour the e-Stewards certification. There was a split. There was specific language in each of the standards which favoured either manufacturers or the end-user.
"Sims was originally an R2-certified company, because our customers were manufacturers. But as we started deeper and deeper into the market, we realized we wanted to target insurance companies, banks and other organizations that favoured e-Stewards certification. This is why we became certified with both, to make sure we are addressing the needs of both markets. I am agnostic with respect to R2 and e-Stewards.
"Today, e-Stewards has incorporated a lot of the R2 language, so the lines have blurred. In essence, both standards are trying to accomplish the same thing."
A changing global landscape for e-waste
"I think customers are going to drive the maturation of our business. We already see some consolidation but I think it's going to speed up. Customers are concerned about the environment and about their data. We see more and more tenders where customers are asking for a certain amount of insurance and certain protection, so I think the industry is definitely maturing.
"If we compare to the solar industry, only about six or seven years ago, there were a bunch of small players. There has been a mass consolidation and it's similar in e-waste, because there is a relatively low cost of entry into the business. But to really be able to compete, you have to have the scale and I think that's happening to our business today."
Magann says the industry definitely has its challenges, or opportunities, depending on how one looks at it. "Solid State Drives (SSD) are one thing that the industry is struggling with currently," says Magann. "We're waiting to see that definitive, certified software product that will efficiently wipe SSD drives. As higher and higher capacity drives are introduced we see more and more one- to two-terabyte drives come in, which take longer to wipe clean for resale."
Magann says there is also the question of how to deal with CRT glass (screen and monitor glass that contains lead). Because there is not nearly enough end market for this kind of contaminated glass, which is left over after e-waste is processed, companies tend to stockpile the material, and then sometimes, with no market for it, abandon it.
"One of the biggest changes in the e-waste business over the last 10 years, is the refocus of customers towards the importance of data destruction," Magann says. "Because of all the breaches, with large big-box companies and others, people are realizing the extent of the liability for data that is not dealt with properly. The focus on data has become really big.
"We are also seeing the miniaturization of devices, and more and more data on the "cloud", so we are doing more and more work with data, not residing with clients, but in the cloud. Also, data is showing up on items, including copy machines and medical equipment, etc., which now have internal hard drives, and contain company data as well as patient data. Phones also contain a lot of data, and companies such as Apple are moving towards the increased use of phones for payment solutions.
"The ubiquity of data is in everything now, and unfortunately, it seems like the users of equipment haven't kept up with it. When companies and others send us their end-of-life electronic equipment, they can count themselves lucky.
"We destroy the data completely, and are fully certified. We do not ship materials illegally for overseas processing. There are still so many out there who do business this way. It is no longer just an environmental and ethical risk, but think about the data risk. A hard drive could potentially be filled with data that is worth the price of a whole container. This is where customers have to ask the right questions.
"End users and manufacturers bear the responsibility to know where their material ends up. In the U.S. a lot of generators turn a blind eye, including a lot of municipalities. They don't ask the right questions and they want to believe that material can just 'go away' cheaply and without consequences globally. This is no longer true."