Progressive Waste Solutions Revs up Its Leadership in the Use of Natural Gas Powered Waste and Recycling Collection Vehicles
Progressive Waste Solutions (the "Company") has announced the official opening of its natural gas fueling station facility in Coquitlam that services the largest fleet of natural gas powered waste and recycling collection vehicles in BC and Canada.
"Our announcement demonstrates our commitment to being a leader in the waste services sector, providing our customers the best service in the most sustainable way possible," said Grant Hankins, District Manager for Progressive Waste Solutions. "We are proud to have the largest fleet of natural gas powered waste and recycling collection vehicles in British Columbia and Canada."
Progressive Waste Solutions services the cities of Coquitlam and Surrey, and commercial customers with 77 waste and recycling collection trucks powered by compressed natural gas (CNG). The CNG-powered trucks deliver distinct environmental benefits to the local communities and Lower Mainland as they reduce smog-causing nitrogen oxides and diesel particulate matter by over 90 percent and cut greenhouse gas emissions by 20 to 25 percent when compared to older diesel trucks.
"We're pretty proud to have this natural gas fuelling station right here in Coquitlam, fuelling the trucks that serve our residents," said Coquitlam Mayor Richard Stewart. "Natural gas provides many benefits over other fuels; it's a progressive fuel choice that we're happy to embrace for our waste collection."
The trucks are powered by technology developed by Cummins Westport of Vancouver and fueled with natural gas from FortisBC - a made-in-B.C. success story.
Since 2009, FortisBC has been supporting the adoption of natural gas as a transportation fuel solution in BC," said Vito Triggiano, Senior Manager, Business Development, FortisBC. "We're pleased to team-up with Progressive Waste Solutions to invest in this cleaner burning fuel."
The CNG-powered collection vehicles is part of a corporate initiative announced in Vancouver in May 2013 to convert the Company's collection fleet to natural gas powered vehicles from diesel powered trucks. Since announcing the conversion just over a year ago, Progressive Waste Solutions has added nearly 250 natural gas-powered trucks to its waste and recycling collection fleet. The Company now has close to 400 natural gas powered-vehicles on the road in 11 different markets throughout North America.
Progressive Waste Solutions typically purchases 300 to 400 trucks per year through the normal replacement of its fleet and is on track to have up to 55% of the total number of vehicles it replaces annually in Canada and the U.S. fuelled by CNG. By 2019, the Company expects 18-20% of its fleet to be powered by natural gas.
A new waste or recycling collection truck powered by natural gas typically costs about 15% more than a conventional diesel powered truck. As natural gas costs less than diesel, the Company expects a return on this investment within an attractive timeframe.
The switch to natural gas has also become simpler, as companies can build their own fueling stations, as Progressive Waste Solutions has done at several sites of its current CNG fleet. The Company plans to continue adding to its fueling capacity as it converts its fleet.
In 2013, Progressive Waste Solutions took part in the Carbon Disclosure Project's ("CDP") climate change program, designed to facilitate the management of greenhouse gas emissions and identify the risks and opportunities associated with climate change. Progressive Waste Solutions achieved a score in the top 10% of companies sampled in the CDP's Canada 200 Climate Disclosure Leadership Index. The Company's CNG fleet conversion program has played a role in this designation with the significant increase in the use of CNG-powered vehicles.
Related Articles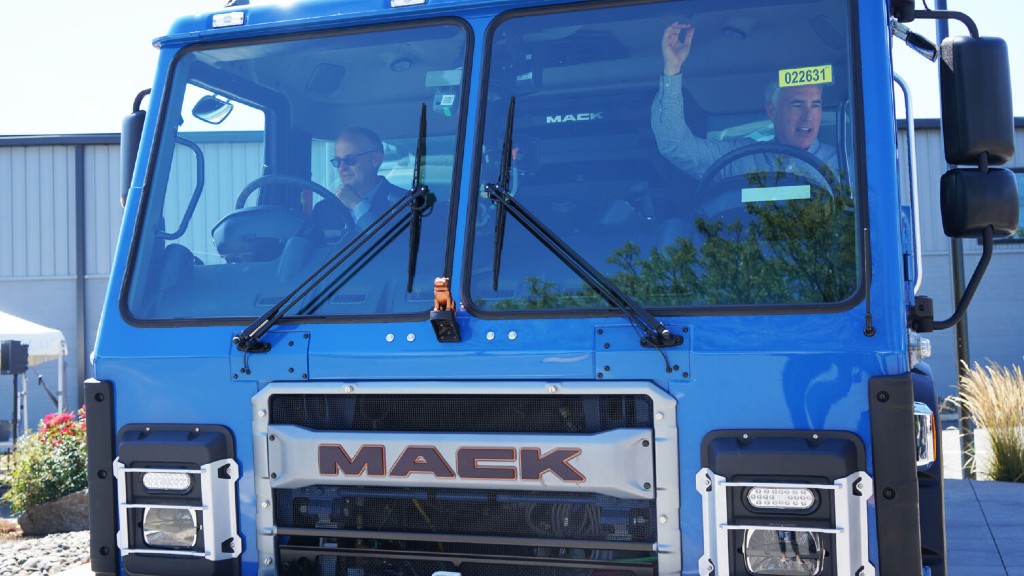 U.S. Senator test drives Mack electric collection vehicle at Lehigh Valley Operations facility