BHS Names Thomas Brooks Director of Technology & Product Development
Will lead technology development for BHS, Nihot, NRT and Zero Waste Energy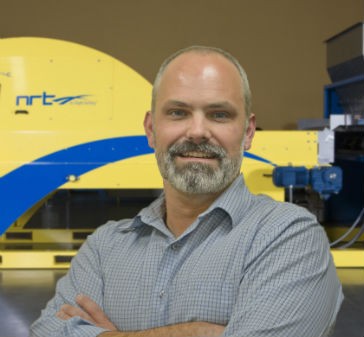 BHS has named Thomas Brooks to the position of Director of Technology and Product Development. Brooks assumes the newly-created position after serving as Engineering Manager for BHS subsidiary National Recovery Technologies (NRT). In this role Thomas will focus on leading new technology and product development efforts across the organization.
"Since launching Zero Waste Energy and acquiring Nihot and NRT, BHS has offered advanced technologies and integrated solutions," said BHS CEO Steve Miller. "Our combined experience and collaboration make us greater than the sum of our parts. Our customers value not only the performance advantages, but also the ability to have one group stand behind its results and provide long-term expertise and support. By forming this position, we continue to strengthen this value. Thomas has a history of successfully leading cross-functional new product development teams, a skillset that we're excited to add to our group," Miller went on.
"My goal is to yield technology that is relevant and impactful to the industry, striving to create the building blocks to maximize the value from our material streams as we work towards zero waste," Brooks said. "We have to understand not only the waste streams we see today but anticipate what our systems will be tasked with in the future. The solutions to the complex issues we face today have to come from integrated strategic systems.
"It's fulfilling to advance equipment and processes that have such a real, daily impact on society," Brooks went on. "It's equally exciting to work with a group that has been a catalyst in this industry. BHS and its family of companies have a reputation for developing best-in-class systems – a testament to the determination and ingenuity of the people that make up this forward-thinking organization."
Brooks has served in management and new product development roles in the aerospace, industrial and automotive industries, among others. He holds a Bachelor's Degree from Tennessee Tech University in Mechanical Engineering with a focus on controls and fluid dynamics.
Related Articles
Traditionally, waste management companies have operated using a simple "management of waste" approach to operating a MRF. Throughput targets and continuous operation (minimal downtime) were the main driving forces. The industry has changed however, and the focus moving forward is now on optimizing system performance and reliability, in conjunction with increasing recycling rates and a drive for a "greener" and more sustainable tomorrow.
When considering the addition of, or upgrade to, an "intelligent" MRF, for municipalities or private operators, the main factors should always be the client's (operator) current requirements, and evolving market needs, which include throughput, reliability, output quality, and adaptability. Equally important is a full understanding of what is really expected from any proposed system. Having an engaged and focused mindset for the project with the client from the beginning, will impact and drive the entire design process. This then impacts the overall project result, through to the productive, efficient, ongoing operation of the facility itself.