SIMS Offers Expanded IT Asset Disposition Services Globally
Five-year strategic plan outlines comprehensive reuse and recycling services for electronics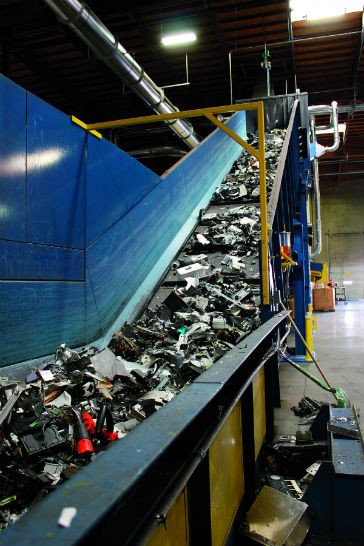 Sims Recycling Solutions (SRS) announced this past summer an expanded offering of its IT asset disposition (ITAD) services. Established as a global leader in electronics reuse and recycling, providing integrated solutions to responsibly manage IT asset disposition, the company says the expansion will better meet the needs of their extensive customer base across the U.S. and around the world. The company formally announced this evolution on July 22 as part of the five-year strategic plan introduced by parent company Sims Metal Management (SMM). The strategic plan outlines restructuring at both SMM and SRS in response to changing demand in respective markets.
"We have adapted and formalized business processes and capabilities to provide a single coordinated service delivery model for our global customers," says Sean Magann, vice president of sales and marketing. "These changes have enabled Sims to deliver a more tightly integrated and consistent service to customers with multiple locations. The recycling and ITAD industry is going through a maturation phase and SRS is committed to remain a reliable resource for our customers."
"Few companies have the infrastructure to support a global ITAD program. Customers gain efficiencies in using a standardized service and are better able to meet corporate and legislative compliance requirements," added Steve Skurnac, president of Sims Recycling Solutions. "Our knowledge of international markets and regulations allows us to protect our customers from fines, fees and penalties and more importantly adverse publicity in the responsible disposition of their assets."
In 2014, SRS discontinued operations at several owned and operated facilities in Canada and the UK which focused on recycling services for municipalities. The company says resources from these discontinued operations will be reinvested in supporting and growing the IT asset disposition business.
Related Articles
Traditionally, waste management companies have operated using a simple "management of waste" approach to operating a MRF. Throughput targets and continuous operation (minimal downtime) were the main driving forces. The industry has changed however, and the focus moving forward is now on optimizing system performance and reliability, in conjunction with increasing recycling rates and a drive for a "greener" and more sustainable tomorrow.
When considering the addition of, or upgrade to, an "intelligent" MRF, for municipalities or private operators, the main factors should always be the client's (operator) current requirements, and evolving market needs, which include throughput, reliability, output quality, and adaptability. Equally important is a full understanding of what is really expected from any proposed system. Having an engaged and focused mindset for the project with the client from the beginning, will impact and drive the entire design process. This then impacts the overall project result, through to the productive, efficient, ongoing operation of the facility itself.