Italian-built auto de-pollution equipment now available in Canada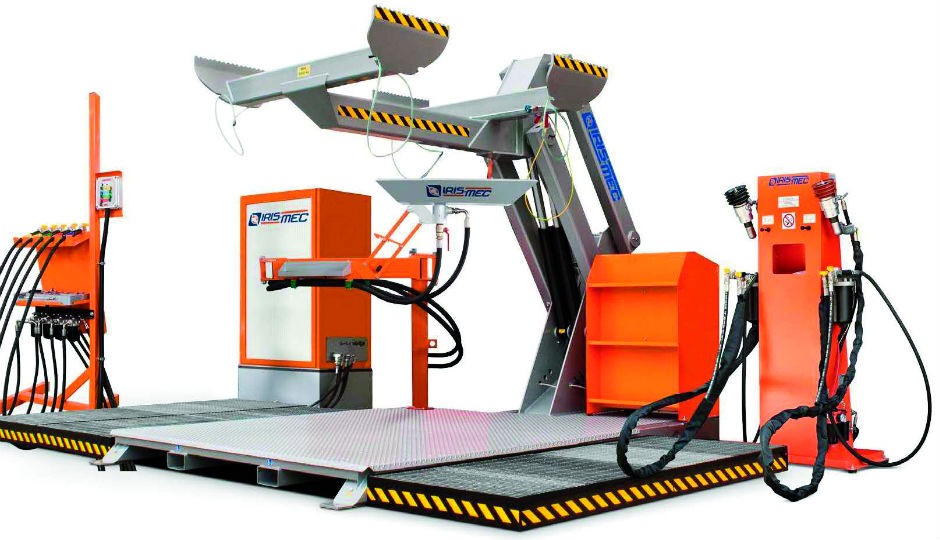 With increasing regulation of end-of-life vehicle (ELV) recycling, it's important for auto recyclers to make sure they have de-pollution equipment that meets all current and upcoming standards. Italy-based Iris-Mec manufactures a comprehensive range of high-quality equipment for removing hazardous materials from end-of-life vehicles, including vehicle lifts, racks, fluid drainage systems, airbag deactivators, glass cutters, wheel splitters, containment tanks, and gasoline extractors. Iris-Mec equipment is designed to be user friendly, efficient, safe and meets all applicable Canadian safety standards. Recently, Iris-Mec entered into an exclusive distribution agreement with Ontario-based Recycling Equipment Canada (REC) for the sales and servicing of Iris-Mec products nationwide.
According to REC, Iris-Mec's PFT series of fuel extractors offer the safest and most efficient systems on the market. Designed to be positioned at the rear of the ELV away from the lift, PFT fuel extractors stay out of the way, allowing additional depollution work to be performed while fuel is safely extracted. With their automatic start/stop feature and self-supporting tank drill head, PFT units can run independently once the fuel tank has been punctured. Visible fuel flow enables operators to be sure the tank is entirely drained. Plus, fully pneumatic operation eliminates the danger of spark and explosion, and a sealed extraction connection to the fuel tank eliminates the potential for spilled fuel.
This system is engineeered to be compact and easy to use, and has two separate drills, one for gasoline and one for diesel, which REC says means cleaner fuel and increased opportunities for reuse, compared to units using one drill for both gasoline and diesel.
Related Articles
Traditionally, waste management companies have operated using a simple "management of waste" approach to operating a MRF. Throughput targets and continuous operation (minimal downtime) were the main driving forces. The industry has changed however, and the focus moving forward is now on optimizing system performance and reliability, in conjunction with increasing recycling rates and a drive for a "greener" and more sustainable tomorrow.
When considering the addition of, or upgrade to, an "intelligent" MRF, for municipalities or private operators, the main factors should always be the client's (operator) current requirements, and evolving market needs, which include throughput, reliability, output quality, and adaptability. Equally important is a full understanding of what is really expected from any proposed system. Having an engaged and focused mindset for the project with the client from the beginning, will impact and drive the entire design process. This then impacts the overall project result, through to the productive, efficient, ongoing operation of the facility itself.