Proven plastics separator handles packaging waste, WEEE and RDF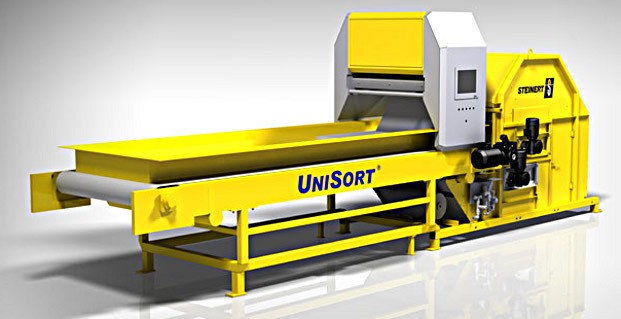 Steinert US' UniSort system precisely detects plastics with grain sizes up to 4 mm and recovers material for recycling. This technology efficiently separates individual plastics found in packaging waste, mixed plastics from electronic scrap (WEEE), and low-PVC refuse-derived fuels from residual waste fraction, using high-precision particle detection followed by a burst of compressed air to separate the detected particle. According to Steinert, over 300 UniSort machines have been commissioned over the past 20 years.
The UniSort system utilizes a material's property of absorbing characteristic wavelengths, which is determined by molecular structure. Hyperspectral imaging technology enables a high-resolution spectrometer to carry out extremely fast material recognition. The unit analyzes the radiation reflected from material to be sorted according to its task, identifying various plastics, wood, paper and textiles, which makes these sorting systems extremely flexible in application.
The UniSort system can thus selectively separate HD polyethylene from LD polyethylene (LDPE, HDPE) or polypropylene (PP), and PET (polyethylene terephthalate) from polyamide (PA) and polycarbonate (PC). Moreover, the system can distinguish between polystyrene (PS) and ABS. Additionally, Steinert says, the unit's high resolution and fast data processing allow for high mass throughput, while maintaining a consistently high extraction rate and maximum product purity.