US Composting Council's annual conference inspires and educates while producing "zero waste"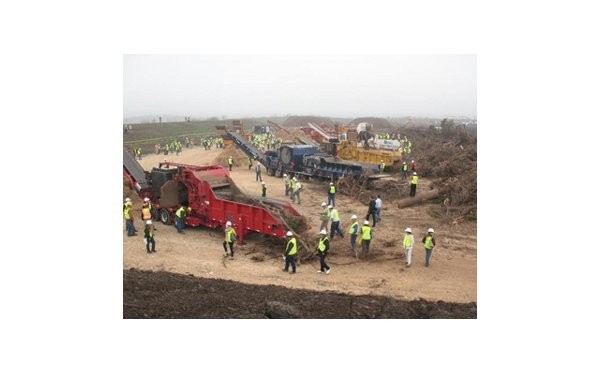 For the 20th year practitioners and supporters of commercial-scale composting came together for the world's largest conference and trade show dedicated to the recycling of organic matter. The 800 attendees came from 44 states or territories plus 13 countries representing Asia, Africa, Europe, North and South America. The conference, held at the Renaissance Hotel in Austin Texas, provided attendees with an array of technical sessions, receptions, an extensive trade show, the annual awards dinner and live demonstrations of some of the newest and biggest equipment on the market.
After a strong keynote from Whole Foods Global Vice President Lee Matecko, attendees chose among the twenty-one technical sessions that were organized into seven tracks over two days and covered nearly every aspect of the industry. Talks ranged from increasing the collection of organic discards from restaurants and households through improved processing efficiency and safety, to developing and expanding new products and markets. A full day track was devoted to "compostable plastics", where representatives of all parts of the "value chain" could share recent advances and work together to overcome challenges in this emerging field.
The trade show featured 110 exhibitors represented the diversity of the compost manufacturing industry. There were manufactures of giant grinders, churners, screeners and other equipment that help transform organic materials into finished product; vendors of integrated composting systems that can control airflow and temperature and reduce odors; haulers who collect the raw materials, suppliers of compostable plastic bags, utensils and other products; educators, consultants, laboratories, media, and allied organizations.
The conference also served as the annual meeting of the USCC. This year, in addition to the usual financial and committee reports and plans, the members had the opportunity to meet the new USCC Executive Director, Michael Virga. Mr. Virga is bringing new enthusiasm and a fresh perspective on the challenges and potential to the industry.
The USCC conference is never complete without the presentation of the annual awards, in such areas as research, grass roots organizing, and water protection. This year's coveted Composter of the Year went to McGill Compost Systems, which operate facilities in North Carolina and Virginia. At this year's Demo Day, 22 manufacturers were given the opportunity to show off 30 pieces of equipment. Hosted by Texas Disposal Systems, several hundred attendees, all sporting white hard hats and yellow safety vests, watched from a safe distance as powerful machines turned whole trees into chips, mixed huge piles of compost to speed decomposition, and screened out larger pieces of wood from mature compost, preparing it for market.
Texas Disposal Systems was also the "Green Event" organizer, providing recycling and composting collection throughout the conference. Specially designed receptacles were places throughout the hotel, and the cadre of volunteers would periodically check to make sure things were sorted correctly. In the end, only 2 percent of the collected garbage had to be disposed, while 31% (640 lbs) were composted and 67% (1,340 lbs) were recycled. The EPA defines a "zero waste event" as one sending less than 10% of the collected waste to disposal.
"This was my first USCC Annual Conference, and I could not be more impressed with the passion and energy of the attendees," exclaimed Mr. Virga. "The excitement here is palpable, and the opportunities enormous. I am already looking forward to next year when we'll be in Orlando, Florida". Established in 1990, the USCC is a professional and trade association dedicated to the development, expansion and promotion of the composting industry in the United States. For more information go to www.compostingcouncil.org