Simplicity May Be Key to Future of Composting
Nova Scotia facility built around metal-frame fabric structures and elevating-face turner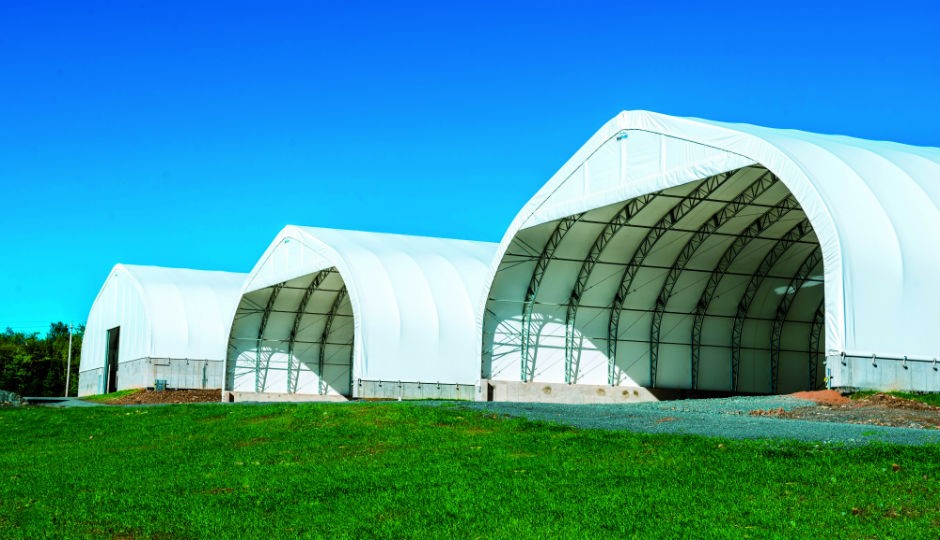 The County of Colchester, located in central Nova Scotia, was in need of an update to their existing composting facility. Built in 1996, the in-vessel system was not working well, was very energy intensive, and was capable of processing only about 3,000 tons annually. It was, however, the beginning of coordinated source-separation efforts in the region.
In 2010 the county completed distribution of just over 6,500 green carts to all residents (including cottages), with curbside pickup using clear see-through bags and rear-load trucks with mounted tippers, split for garbage and compost. Today, there are over 22,000 green carts in service. Recyclables are collected separately, using a two-stream system, and the county runs a both a dedicated recycling facility and a landfill.
This past spring, three MegaDome buildings were installed at the site of the Colchester Compost Facility. All three buildings are clear-span, 90 feet wide by about 274 feet long, with open ends 18 feet high by 24 feet wide, and are made out of fire-retardant fabric.
"The buildings are up and essentially ready to go. We're now waiting for Nova Scotia Power to provide us with power and for the final installation of our equipment in the receiving building where we'll be doing our shredding and blending," explains Wayne Wamboldt, director of waste management, County of Colchester.
"We have three MegaDome buildings placed side by side. The initial building, which has the tipping floor in it, is completely enclosed. That's where our shredder is located. All the incoming waste will be shredded and blended with wood chips as a bulking agent and a carbon source. We will also retain some drywall that normally goes into our C&D site, which is added as needed to keep our pH where we want it. Because it is a source of lime, it will lower our pH."
Wamboldt says material is held for a few days and is then moved into the second building. In this building is an air-floor system, covering an area 60-feet wide, which leaves a 30-foot wide "travel-run" down one side of the building. "In the second building, we'll be doing a full trapezoidal pile," continues Wamboldt.
"In other words, we could have a pile that is in excess of 200 feet long and 60 feet wide. The third building will be used for curing and future growth."
The right turner for the job
In order to handle their large piles, the county also recently purchased a CT1010TX elevating-face turner from Vermeer.
"Basically, we designed our facility around this piece of equipment essentially because it allowed us to reduce our footprint by almost 60 percent, which equates to dollars saved," says Wamboldt. "Our windrows are triangular and you have to have travel space between them. So, even if you move the windrows together, toe-to-toe, you would still have an open, inverted triangle in between the windrows. Using the elevating-face turner, we're able to eliminate all of those empty spaces, so it's just one big pile.
"When we move it, we can move the whole pile just by coming in, stroke after stroke, and moving it approximately 25 to 30 feet to the side."
New beginnings
Wamboldt says he already had built up trust with the local MegaDome representative when it was time to decide on the type of building they would use, and that he did spend several years on market research.
"It was awe-inspiring to watch our buildings go up. It was seamless," says Wamboldt. "It seemed like they were in and out within a few weeks. Those are big buildings and where we are located, on top of a hill that is known for its heavy winds – to put structures like these up under those conditions is amazing."
Wamboldt says they now plan to process approximately 8,500 tonnes per year, which is above their initial projections. Material will include food waste, coming from local apartments, residences and commercial enterprises.
"We have a huge amount of green waste coming in right now, and some material we screened last year that did not pass our maturity test – because our old system was overwhelmed."
Wamboldt says he believes the basic concept of in-vessel composting to be sound, but one challenge for their former system was with respect to the harsh weather conditions they experience on Canada's east coast. Snow does not stay on the MegaDome roofs, so that is not an issue. But in-vessel systems do require a lot of heat in the winter.
"Air also needs to be blown into the vessels, but with municipal green waste being so wet and dense, that air, like water, takes the path of least resistance around the outside. With our former system, we ended up having a mass in the centre that remained anaerobic. We had materials come out after ten days, for example, that could still be recognized as an orange or an apple.
"We are also working in a highly corrosive environment, so we needed metal frames that were going to be galvanized and hot-dipped. No electro-plating."
Wamboldt adds, "It was also important for our new facility that we had a building with some straight sides, because we want to work very close to the side walls."
When it comes to issues around odour control, Wamboldt says they expect to have some but that it is not a large concern. Their location is situated on 730 acres and their nearest neighbour is about a kilometre away.
"With our old system, it took at least one year to produce finished compost," says Wamboldt. In the new facility, I think we're going to be learning all over again. We're all very excited about starting operations, which we are planning for mid-October."
Bright future for compost
End markets for compost produced in Colchester are not a concern. No materials are sent out of province and the community has a policy that a certain amount of compost is offered to every resident in the municipality, free of charge. The remainder is used by the local public works department or sold to the public. "If you can produce good quality compost, there is no problem finding a market for it," says Wamboldt.
"One issue that may arise is that of using bio-solids as part of the feedstock. As far as I'm concerned, the science is there to say that it's absolutely beneficial for our compost. But there is a stigma attached to it – they call it the 'yuck factor'.
"Unfortunately, it doesn't always matter what the science says, public perception will always win out. So we do not include bio-solids in our compost."
With respect to the changes he's seen in the composting industry in recent years, Wamboldt says he feels that in many instances the private sector is leading the way.
"You'll find the private sector providing different blends of compost, getting into producing compost tea and things of that nature," he says. "As far as I'm concerned, this is all good, and all part of the future. It is a little more difficult for municipalities to get into this because any major change that you want to do requires council approval. If you're private industry, if you believe that something needs to be done and you have the wherewithal to do it, you just go and do it."
Wamboldt concludes: "I'm going to be so bold as to say that we are going to be visited by a lot of people. Our design, I think is the design of the future. It's very simplistic, it's very basic. We don't have a lot of automation. Our staff will be going around physically with oxygen and temperature probes. The biggest, fanciest equipment that we have is our turner, which allows our staff complete control over the product."