Fabric structures provide range of solutions
Recycling used roof shingles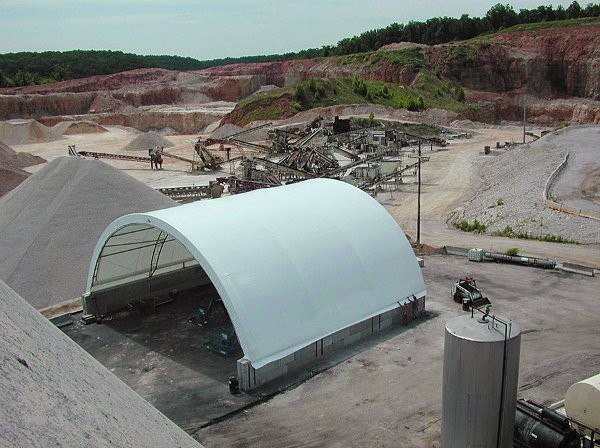 APAC-Missouri, Inc. is an asphalt, construction and aggregate company with locations throughout the state of Missouri. Owned by parent company, Oldcastle Materials, APAC encompasses operations ranging from concrete and asphalt paving to aggregate production.
One of APAC's key functions is also the recycling of used roofing shingles into asphalt material for use on highways and roads. The asphalt shingles are highly porous, and easily absorb moisture and radiant heat from the sun. Since APAC lacked a storage space for the asphalt material, the materials were stockpiled outdoors, in full contact with the elements.
"We just had to pile them outside, and they were collecting a lot of moisture," APAC Asphalt Plant Superintendent Robbie Freels says.
Before the shingles could be recycled into usable asphalt material, he says complete removal of all moisture was required. This increased fuel and handling costs, and also added unnecessary time restraints to the process.
Freels spoke to several farmers in the Missouri area who had purchased ClearSpan Fabric Structures for use in their agricultural operations, and who recommended the durable, versatile buildings as a storage solution. With those recommendations as a stepping stone, he began exploring his options.
After researching several companies which specialize in fabric structures, Freels began working with ClearSpan – due to what he says he found to be the most cost-effective price, as well as the highest-quality materials.
"The fabric and the size of the pipe looked a lot sturdier than other fabric buildings we were looking at," Freels says, adding that the affordable price of the building was also a deciding factor for his purchase.
The company purchased three 65-foot wide by 60-foot long Hercules Truss Arch Fabric Structures for locations in Marshall, Columbia and Linn Creek, Missouri. All of the structures are being used to store asphalt material out of the weather.
APAC says they built each of the structures on a six-foot concrete block wall, and got the most economical solution with almost 100 percent usable space inside. The company says the structures cost less than a traditional wood or steel building, and the height is what they needed to allow access for trucks, materials and equipment.
"We got the most space we could possibly get," Freels said. "We pile the shingles up to the rafters."
The ClearSpan structures store the material safely and efficiently, and Freels comments that the company may not stop with just three buildings.
"We are extremely happy with the three of them, and we're talking about purchasing a couple more to use for our quarry operations," he says.
ClearSpan structures are ideal for a variety of applications in recycling, are ideal for materials storage and are completely customizable.