RM V550GO! Unites Several Crushing Processes in One Machine
MTS2010 Tracked Mobile Stockpiler Replaces a Wheel Loader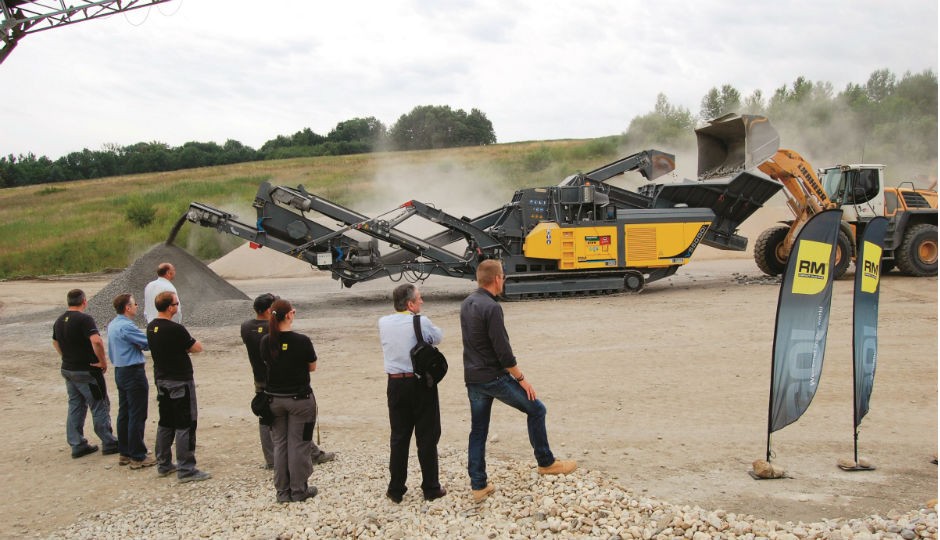 Rubble Master's RM V550GO! (shown here at a recent Demo Days in Austria) brings together the technology of a cone crusher and vertical shaft impactor (VSI) with the benefits of the company's RM GO! technology. This fully mobile plant produces sand from waste material or post-crush processes reject gravel, or hard stone to make recycled aggregate. It is also a very good machine for processing waste aggregate (reject of 8 to 16 mm).
"This crusher is a revolution. It unites two machines in one. Now you only have to invest in one machine instead of what was previously two or three," says Rubble Master (RM) sales partner Jean-Yves Voghel from Quebec, Canada.
The RM V550GO! combines the innovative and proven drive concept of Rubble Master's RM GO! line with a high-performance crusher unit and is ideal for the production of sand from waste material and for the processing of hard stone such as granite or basalt. The RM V550GO! produces around 50 tonnes of 0 to 4 mm sand per hour, from 8 to 16 mm waste aggregate.
MTS2010 tracked mobile stockpile belt
The RM MTS2010 tracked mobile stockpile belt is also an ideal addition to recycling and other processing applications. "The stockpile belt basically replaces a wheel loader. As a result the user can make a drastic saving in costs, needing just a third of the fuel. There are no wear costs associated with using wheel loaders and you can use the personnel in another area instead, which earns more profit," says RM CEO Gerald Hanisch.
The RM MTS2010 handles piles up to a height of 8 metres, can be transported very easily, and can be used individually to pile up a multitude of materials. According to Rubble Master, the RM MTS2010 has already been used with great success at waste sorting plants and for piling wood chips and industrial wastes, and that one considerable advantage over using a wheel loader is that with the stockpile conveyor belt, there is no undesired compacting of the materials in the pile.
"We have worked meticulously on improving our machines all the time with the aim of giving as many entrepreneurs as possible the opportunity to use mobile crushing for added value," explains Hanisch. "Harsher environmental requirements, high costs for logistics, plus growing environmental awareness make people more receptive to environmentally friendly alternatives such as mobile, on-site processing. This development has a positive impact on our business. As a result we achieved sales of 39 million euros with over 50 sales partners in 2013," explains Hanisch. Rubble Master says a further increase of more than 15 percent is expected for 2014.
Company info
Related products