On The Front Lines in the Fight for Recycling
Proposed facility in limbo due to municipal policy on waste management favouring incineration and landfill disposal over mixed material recovery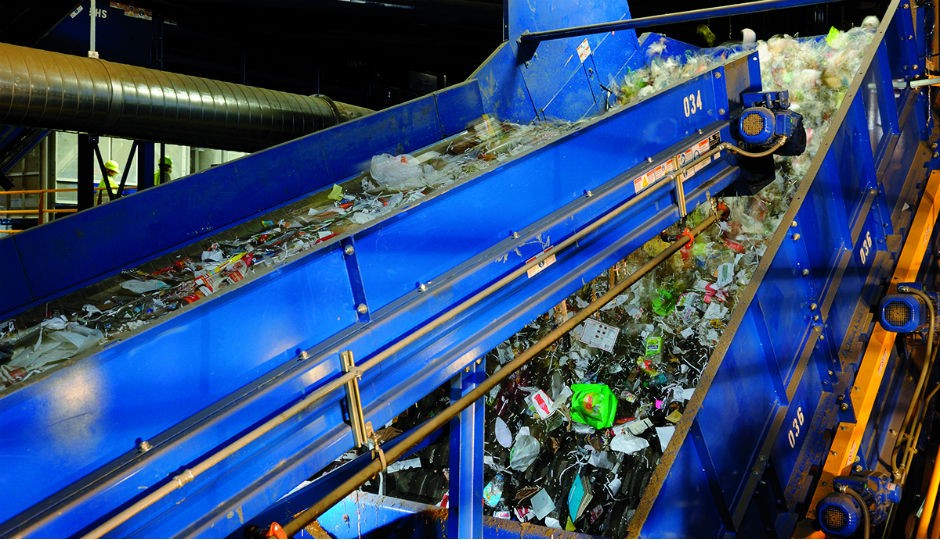 NextUse Recycling Ltd. recently launched a website, at www. nextuse.ca, designed to contribute to the discussion on how to increase recycling and green jobs in B.C.'s Lower Mainland (Vancouver and surrounding region), and boost progress in reducing waste disposal to incineration and landfilling. The launch of the website came at a key time in the debate over Metro Vancouver's plans to construct a $500 million taxpayer-funded incinerator for unsorted waste, which would burn plastic, paper and other recyclables.
Alternatively, NextUse is proposing to build a recycling facility in Coquitlam B.C., a suburb near Vancouver, that would receive what is left over after residents and businesses in the region have recycled as much as possible. NextUse says they would use advanced technology to "break the garbage bag" and recover recyclable and compostable material that would otherwise go to landfill or incineration. Whatever cannot be recycled from this fraction would still be sent to a disposal facility determined by Metro Vancouver.
"Recyclables should be recycled, not burned. It's hard to accept an expensive disposal option when there are better ways to reduce our waste and maximize recycling upstream of incineration or landfilling. Nextuse.ca promotes a proven option that can be driven by the private sector, at no added cost or risk to taxpayers," said Russ Black, Vice President of Corporate Development, NextUse Recycling Ltd. "We feel recycling solutions are a priority, and they should be part of the discussion."
NextUse's business model is built around what the company calls a "progressive approach to waste management", focused on material recovery and recycling that provides new opportunities to local remanufacturers and other members of a green economy. The company is relatively new to the industry but is an affiliate of Belkorp Environmental Services Inc. (BESI), a member of the Belkorp Group of companies,
which owns everything from John Deere dealerships in California, to multifamily apartment buildings throughout the U.S., and a controlling interest in Rogers Sugar. Belkorp also has been involved in commercial composting and owns a company called AtSource Recycling Systems, a distributor of equipment for recyclables separation (www.atsource. ca). Another Belkorp affiliate is Wastech, an environmental management company which is currently contracted to Metro Vancouver as part of the regional government's strategy to manage their waste. Wastech also currently operates a C&D recycling facility across the street from NextUse's proposed MRF site.
"The industry calls it waste-to-energy; that's just branding. I call it what it is: incineration. Russ Black
Battling through the application process
Since the beginning of 2014, NextUse has had their application for the construction of a mixed-waste material recovery facility in front of Metro Vancouver, the regional municipal body with jurisdiction in the area of their proposed site.
"It's a difficult process because regional districts derive their regulatory responsibilities, when it comes to British Columbia's solid waste, in a provinciallyapproved solid waste management plan. Those plans define the rules and responsibilities of all the players. Metro Vancouver have only requested, and have always maintained that their only responsibility is for disposal. So they run a disposal system which includes transfer stations, landfills and mass-burn incinerators.
"Here we have a garbage disposal entity that wants to burn recyclables, and is also the licensing entity for recycling facilities. They're in conflict in our view. "If we are successful at stripping out the recyclables from the last fraction of waste that remains after all residents and businesses have done their best to sourceseparate and recycle it, then it really negates the need for a new incinerator. The industry calls it waste-to-energy; that's just branding. I call it what it is: incineration."
Black says the paper and plastics in the "waste" that they would process out, if allowed to go ahead with the construction of their MRF, represents approximately 75 percent of the heating value that the region needs for their incineration option.
"So here we have this great option emerging, in mixed waste material recovery facilities, which Metro Vancouver never looked at in their own solid waste management plan submitted in 2010.
They totally missed the idea of mixed waste material recovery. Now, they're caught because there are those of us who want to build MRFs upstream of their disposal system."
"If we take the paper and plastic out of the waste stream, it would dramatically reduce the overall size of the incineration facility Metro Vancouver would need to build, which makes it uneconomical for them. Economy of scale is so important with any incineration option."
Bylaws as roadblocks
Recently, Metro Vancouver proposed bylaw 280, an extension of former bylaw 181, which according to Black effectively prevents the construction of mixed waste material recovery facilities.
"What happened is that they realized that because they've got a $500 million dollar incinerator, it's going to cause tipping fees to go from $108 to $150 or $200 per tonne (and this is predicated on the government receiving between $200- to $300 million in subsidies from the local energy provider, BC Hydro, for clean energy production). What happens is it creates a massive market distortion between the neighbouring regional districts that are operating at the $90 to $100 per tonne range."
"So they propose bylaw 280, which would be a new version of 181. It would protect the materials that the incineration driven market would otherwise drive out of the region. It also protects the energy value of the waste (plastics and paper) that mixed waste materials recovery facilities would otherwise recycle. They need to build a "wall" around Metro Vancouver in order to protect the feedstock for the planned incinerator. So with respect to mixed waste MRFs, they've introduced regulations that we think well overextend their authority with respect to managing recycling facilities."
Black says NextUse has taken the issue to the provincial government, and are still working towards their proposed MRF facility. "We're hoping the provincial government will see through this and will say to Metro Vancouver: 'You said you wanted to maximize material recovery. How about you let the private sector operate in a friendly environment? If you don't believe MRF facilities will work, then it's the private sector capital at risk. If they fall flat on their faces, go build your incinerator.'
"If you look at every forecast on fibres and plastics; we need them. We can't turn them into ashes. We need to keep them in the production loops."
Black points to Europe as an example of where waste-to-energy and incineration has led. Recently, the French Minister of Environment, Ségolène Royale, said "we have to stop incinerating resources" and that "incineration technology is outdated and smarter, greener options are available for progress towards zero waste".
"Look at all the waste-to-energy happening in France, and in Germany and Scandinavia," continues Black. "I'm certain they now wish they were doing less of it. Now they have built infrastructure that is solely dependent upon burning garbage. Sweden is importing refuse from everywhere they can at the moment because they're running out of feedstock, and they are dependent on it."
At the end of the day, NextUse says mixed-waste material recovery facilities increase the amount of material that is recovered and recycled, and decrease the amount of waste requiring disposal to incinerators and landfills. Mixed-waste MRFs like the one proposed for construction in Coquitlam, B.C., represent an important additional step to existing recycling efforts, and would serve to "break the garbage bag" and recover recyclable and compostable material that is currently sent to incineration (causing significant pollution) and to landfill.
"We're moving ahead with all aspects that we can," concludes Black. "We are working with Bulk Handling Systems as an equipment supplier, we've put together all the pieces and are ready to hit the ground running. But ultimately, we need an operating license from Metro Vancouver. If they end up delaying and frustrating us to the point where we can't move ahead, that would be very unfortunate for the region."