New Beast Options Available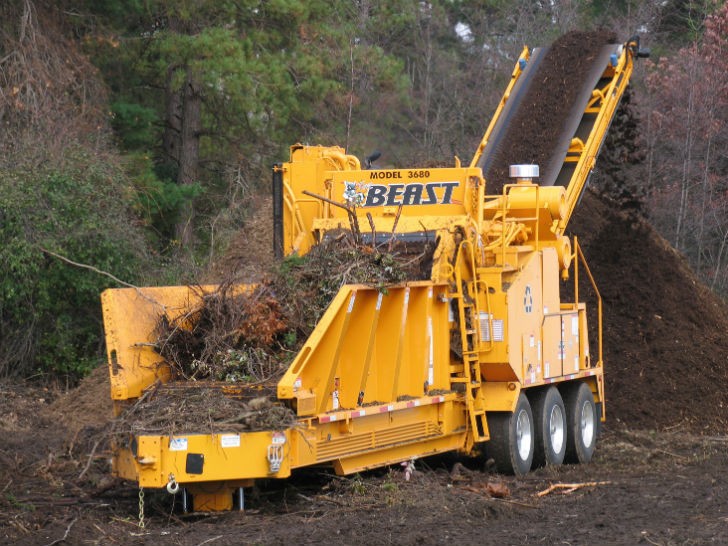 Beast horizontal grinders have always been ahead of the pack when it comes to processing dense, stringy green waste like palms, vines, and coastal vegetation. This type of material can be a challenge to process for any machine, but new options and designs for the Model 2680XP, 3680XP and 4680XP Beast Recyclers allow these machines to excel in this type of grinding application.
The changes begin with the cuttermill, which features a 30-tooth setup with 2-inch wide teeth as opposed to the standard 60-tooth, 1-inch wide arrangement. While a 60-tooth set up is still the best for grinding larger diameter wood, in leafy / stringy material void of larger material the 30-tooth setup is extremely efficient. The mill RPM is also increased which helps clear the mill faster, while the mill housing itself is opened up. Increased tolerances and a larger screening area add to the overall machine throughput, delivering a better end-product quicker, and with lower fuel consumption.
Also, a new proportional drive system for hydraulics on the Beast's feed system will help deliver maximum feeding rates without overfeeding the machine. This new system will monitor engine loads and automatically adjust the feed rate to match. The new system has the ability to not only proportionally feed, but can also switch over to six different feed speeds with the touch of a button for people desiring the most uniform products possible.
As a result of these enhancements and options, operators can utilize Beast recyclers to quickly and efficiently process coastal vegetation, viney material and similar green waste that is often problematic with other machines.