Keeping On Top Of A Diverse Material Stream
Tub grinders pivotal to long-term profitability for C&D/green waste processor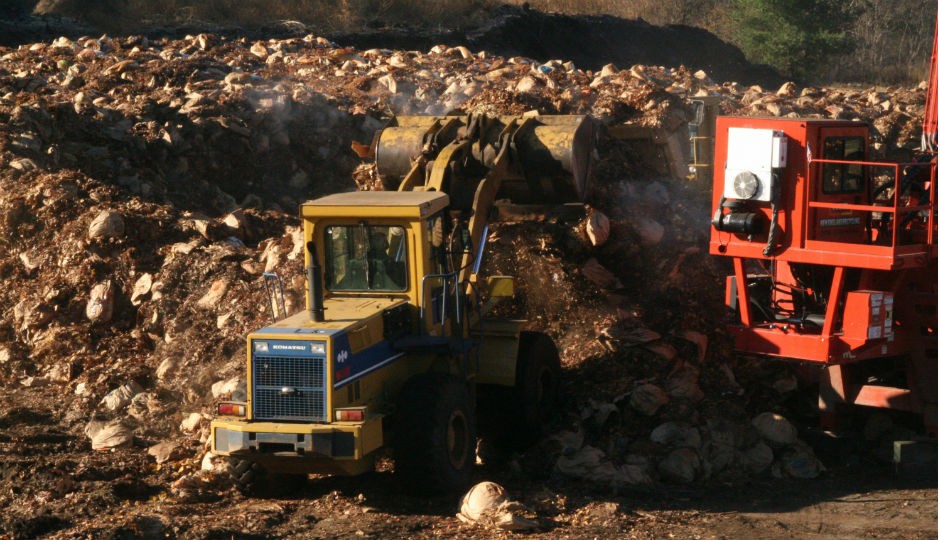 While the trend among some wood waste recyclers is toward smaller, more portable grinders or chippers, many companies remain committed to the performance a larger machine provides. For these companies, it is all about the power and adaptability to their particular material stream – a need that often cannot be met by a smaller machine. With nearly three decades' experience under their belts, New England Recycling Co., Inc. (NER) is one such company. Offering a range of mulch products created mainly by grinding huge stumps from area landclearing operations, among other materials, over the years the company has used a series of larger tub grinders. The latest of those – a 1,000-hp Morbark 1300B – has become a key contributor to the company's recent success.
Collection-based effort
With roots in general contracting that date back to the mid 1960s, NER developed into a firm called Stump Disposal Systems in 1987. Then, riding the growth of the construction and demolition (C&D) recycling market, NER evolved into the entity it is today.– not only a much larger and well-defined company, but one that is more diverse. Based out of Taunton, Massachusetts, the company is currently one of the region's largest recyclers of C&D debris.
"We take in and collect a broad range of materials, including concrete, asphalt, brick, stumps and more," says NER president, Gil Lopes. "To help make that happen, we instituted a roll-off service, which today includes about 800 containers located throughout the area. So if there is anything construction-related – new home construction, commercial construction, any type of renovation, anything that generates debris – we can have a container at that site, and when it is full we pick it up. Our approach follows the same principal as trash dumpsters, but our containers are strictly for C&D and yard waste, and the material being collected is recycled rather than landfilled."
On the green side
Though C&D is undeniably the larger part of NER's business (the company is permitted for 550 tons/day) they also process a steady green waste stream, collected from within a 50-mile radius of its Taunton offices. Lopes says what the green waste side of the business lacks in comparative volume – the company processes about 80,000 cubic yards annually – it makes up for in breadth of application and diversity of products produced.
"Since the beginning our green waste grinding operation has been an integral part of what we do," he says.
"Even in the early years, we had a Morbark unit called a waste recycler. It was a basic precursor to today's horizontal grinder, but it served us well and helped us get established in this part of the business. We've always had at least one grinder in our fleet and currently have four horizontal grinders, the newest of which is a 1,000-hp Morbark 1300B tub."
Much of what NER does in the green waste realm – land clearing, stump removal and grinding, as well as contract grinding for both private and municipal customers – is done with a dual purpose in mind: to minimize volumes being landfilled and to maximize the potential value of the materials being processed. For green waste, that includes creating several varieties of mulch product.
"We currently grind stumps and brush to create a quality mulch product, then colourize it and sell it on a wholesale level," says Lopes. "Currently that lineup includes red cedar, pine bark, hemlock and a premium Boston black, which not surprisingly is extremely popular in this area.
"It should be mentioned, however, that we also grind wood material from our C&D stream for biofuel use in a number of plants in Connecticut and Maine."
Uptime value
Virtually every aspect of NER's operation is dependent upon solid, reliable equipment performance. To ensure they get that level of reliability, the company has aligned itself with equipment manufacturers and dealers with a demonstrated commitment to uptime.
"There is nothing more critical to our operation than the ability to handle and process material, whether that is in the C&D operation or in our green waste segment," says Lopes. "For all our loading and material handling needs we've chosen John Deere loaders and excavators with sales and support from Schmidt Equipment. Luckily for us, they are also our local Morbark dealer, so they are with us almost every step of the way in our business. They've been just outstanding in that capacity."
According to Rob Cybulski, territory sales manager for Schmidt Equipment's Swansea, Massachusetts branch, their relationship with Lopes and NER goes back a long way and is predicated on simply providing the best level of service they can.
"Gil has been purchasing equipment from us for about 15 years now and, in that time, he's become more than just a customer – he's a very good friend to us. He has some very specific needs between the C&D and green waste operations, and we work hard to meet those needs. I think he has a level of confidence dealing with us that he wouldn't have anywhere else; that's invaluable today."
Large-scale mobility
Lopes says that, despite its large size, their newest Morbark 1300B tub grinder has been designated to the role of mobile machine. While productivity of the unit is always key, there are other factors that make it ideal for such applications.
"We do a lot of work for municipalities in the area — Scituate, Welfleet, Mansfield, Acushnet and Hingham are just a few examples — as well as for companies who are either clearing for development or take in green waste themselves and need it processed. In all of those cases, we take the 1300 to the site. I particularly like the fact that it has its own boom loader, which means any other equipment I have onsite can be doing other things rather than feeding the grinder. That adds to the efficiency of both the unit itself and the overall project."
On a recent project for a local compost manufacturer, NER's crew was contracted to come in and grind hundreds of thousands of bags of brush and leaves that the landowner had collected from regional residents. The two loaders onsite were able to simply push material toward the grinder where the Morbark 1300B boom could grab it and feed the tub.
"This machine never has a problem keeping up with production," says Lopes. "That compost site was an easy application, but even in cases in which the material is hearty and challenging, we never have a doubt it will keep up. We only buy equipment that we know we can depend on and will make us money, and the 1300 definitely fits into both of those categories."
Even keel
Looking to the future, Lopes says he doesn't see any major changes to his operation taking place, preferring instead to focus on keeping things on an even keel.
"If anything, I feel we can develop the C&D operation even further than it is now," he says. "We were one of the first such companies in the area to get permitted for this type of work, and we're continuing to build upon that effort. People around here know they can trust us to do a good job for them, and as a result, turn to us for their recycling needs. Because we are so committed to this town and this area, that's very important to us as we move forward."
by Keith Barker