Turning Up The Volume: Rotating Shear and Game-Changing Serrated Blades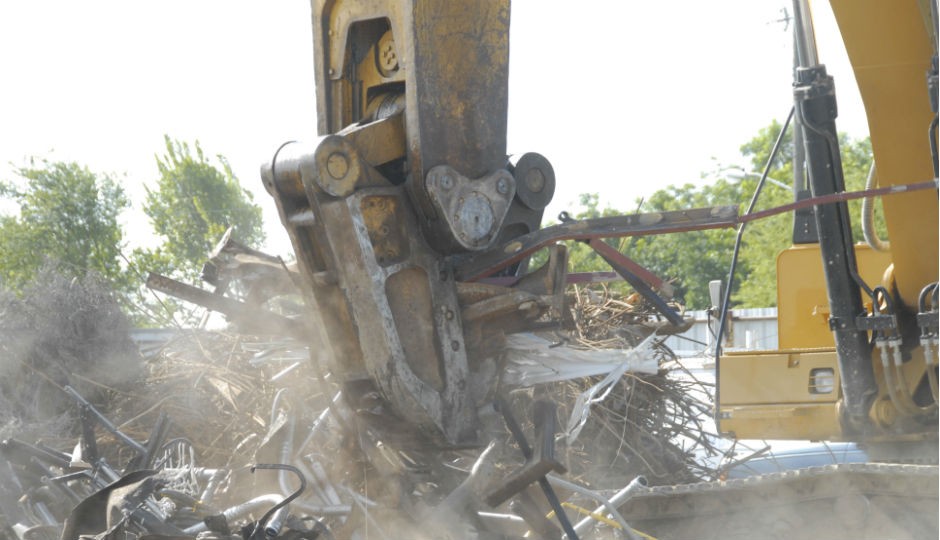 Operating just south of Dallas out of Waxahachie, Texas, hlh&r Metals is a scrap metal recycler that deals mainly in ferrous, with a focus on heavy-melt materials. The company provides containerized collection service to scrap yards and industrial sites located within an 80-mile radius from their yard, using dumpsters and a fleet of roll-off trucks, along with roll-off and end-dump trailers. Materials are brought to the yard, sorted, cleaned, processed and blended for local steel mills and foundries who buy 100 percent of the company's inventory each month. Hlh&r also buys a significant amount of "nuisance-grade" scrap (rebar-containing materials sourced mainly from crushing and demolition projects).
"We call it nuisance-grade simply because it is difficult to effectively process. Most people use linkage shears to process this kind of material, or they're using a thick stationary shear," explains Hugh Taylor, hlh&r's founder and owner. "The issue is that it destroys shear blades extremely quickly, compared to other materials. With rebar, you're lucky if you're getting 40-50 hours of processing out of a set of blades."
When hlh&r began operations, just over three years ago, they were using a Genesis GLS 50 Shear, but according to Taylor, they were limited in the type of material that could be processed. At ISRI 2013, in Orlando Florida, hlh&r visited with all the reps from the major manufacturers, looked at all the different products, focusing on the acquisition of a larger second-member shear. At the end of the day, they decided to purchase the MTR 90 S shear from Allied-Gator.
Built like a battleship
"Initially, the thing that most impressed us about the Allied-Gator shear was the build-quality of it – the steel casting. The best way to describe it is to say it is built like a battleship," says Taylor, whose background includes a career in the United States Navy. "As a former Navy guy, I have a lot of respect for that."
Hlh&r has their MTR 90 S second-member mounted on a CAT 345, 2010-model carrier, and is currently processing roughly 2,000 tons per month, five days per week, eight hours per day. Taylor says about 95 percent of the ferrous material that comes in is being processed by the MTR 90 S, with the other five percent being material that would be considered torch iron.
"Realistically, right now, I can't feed our MTR 90 S enough. I think one of these machines, with the right material, can easily process 4,000 tons per month. I've had to buy another truck, and have been extremely aggressive in my buying programs simply to keep up with the amount of materials this shear can 'eat'.
"They over-engineered everything on the MTR 90 S," continues Taylor. "I like the way the cutting force increases the entire way through the cycle, and I like the fact that the cylinder is actually in line with the rest of the shear body, as opposed to being offset at an angle."
Taylor says that the rotator on his attachment is also built better than any other shear he's ever seen.
"Basically the majority of the other shear manufacturers I spoke with tried to talk me out of buying a rotating shear for my scrap yard. They said 'you only need a rotator if you're in the demolition market.'
"Personally I think they were saying that because the guys I know that have other brands of rotating shears are constantly working on the rotating component, and it is a huge maintenance issue. But the Allied-Gator rotator is overbuilt and we have yet to do any kind of maintenance on it, other than standard greasing."
Taylor says his main reason for wanting to use a rotating shear to process scrap is that they've found it avoids the frustration associated with what he, as former U.S. Military, calls "target fixation".
"Basically, what happens is there's this one piece of scrap and if you have a non-rotating shear, you waste a lot of time trying to arrange the material and get it into position where you can make the cut. With the rotator, you simply rotate the jaw set, make the cut and move on. It dramatically increases the number of cycles operators are completing per hour."
"If you are not putting material through the jaw quickly, plain and simple, you are not making money."
Changing the game
Taylor says Allied-Gator's patented serrated blades, now available on all MT shear models, are a huge aspect of the overall benefits of his new shear, and they are indeed a "game changer". He says the biggest difference about using the serrated blades is that operators get even wear across the entire blade segment, which translates to much longer shear blade life and better cutting capacity.
"I can show you photos of my blades as we're approaching their end-of-life, and the wear is consistent, from the very front of the shear jaw all the way to the back of the throat, and it is just something we have not seen with other shears.
"I've been doing continuous rebar and heavy processing. We're getting 45-50 hours per side out of our blades, compared to about ten hours with a regular blade. In terms of how most operators process rebar, what they'll do is shear everything until the blades are at their end-of-life stage, then they'll spend two or three hours cutting rebar and just completely burn the blade out.
"One of the very first things I did with the MTR 90 S that was extremely impressive, was we processed 'rats nest' rebar for about ten hours, and when we were finished we took the blade, with no adjustment, and started shearing sheet metal with it. We had clean cuts. It just worked. That was by far the most impressive thing we've seen so far."
The icing on the cake
Taylor says they have also been very impressed with the ease of installation (about 2.5 hours) and the support received from Allied-Gator from the start.
"Basically, Allied-Gator's technical support has been the best I've ever seen. Mike Ramun (Allied-Gator's Sales and Marketing Manager) has been one of the most knowledgeable people in this field I've ever dealt with. Generally speaking, if I have a question, I can call or text him and he will be on the phone with me within five minutes. If Mike does not know the answer, he'll tell me he doesn't know and will let me know what he's doing to find an answer.
"When we initially bought the machine, we had Mike on site for two full days, basically running us through maintenance and operational training. We did not see that support at all from any of the other equipment providers we've dealt with in the past."
He adds; "We've never had to change the jaw, and we're probably not going to. The next time this shear comes off its carrier, is going to be when it's time for us to put the shear on another machine and cut up the original carrier for scrap.
Future is bright
"The scrap industry has absolutely changed over the last several years. The biggest difference is that the industry is becoming significantly more focused on efficiency. What I mean by that is this: if you are inefficient in your processing, if you are inefficient in your transport, you are being left behind, and left in the dust.
"Another interesting aspect of how things have changed is that we don't worry at all about scrap prices. A lot of the companies that have been in this business for a long time have made their money on speculation. Because of the volatility of the market now, it's not something that's really viable anymore.
"We're a straight margin company. I buy on a margin that I can make each month, and we turn over 100 percent of our inventory. I feel this way of doing business is a new trend in the industry, especially with a lot of the smaller companies out there."
According to Mike Ramun, Allied-Gator's sales and marketing manager, "Our observation has been that hlh&r does not base an equipment purchase decision on the advice a dealer or the promise of a salesman."
"They buy based on in-depth evaluation. They ask the right questions. They carefully review products at work to compare real world performance. They don't just look over their neighbour's fence to see what equipment they are using and then follow suit. They knew that to be better, to be truly competitive, they needed a shear design that would give them an edge in their market.
"Hlh&r really examined their own operation, then worked as a team to determine which shear would give their business a true advantage. Allied-Gator is very pleased to have gained the business and support of hlh&r."
For Taylor and hlh&r Metals, the future holds the prospect of purchasing both bigger and smaller Allied-Gator shears, with the next purchase likely being a MTR 10 S or MTR 20 S model, which will be used exclusively for processing steel cable and wire. They are also considering the purchase of a very large model, the MTR 160 S shear.
"Because of the amount of homework we do whenever we make a major capital investment, we elected to go with Allied-Gator for our shear, as opposed to the other major manufacturers. I can honestly tell you that I've had people question the decision not to go with one of the "big two" shear manufacturers. But the guys that questioned me, their shears are down for maintenance all the time. Mine is not."