Composting facility runs on efficiency and total community commitment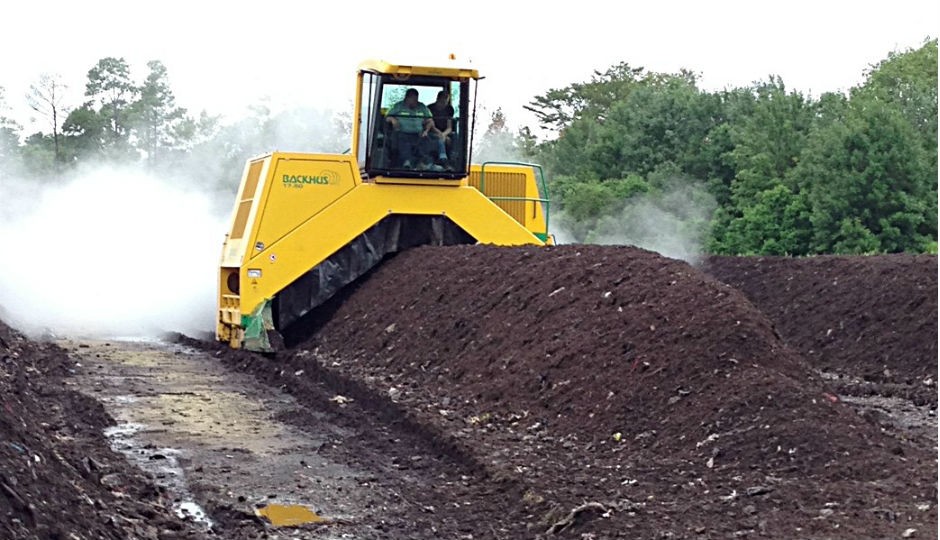 Back in 1801, Horry County, tucked in the northeast corner of South Carolina near Myrtle Beach, somehow managed to lay claim to more land than any other county east of the Mississippi River. One of the manifestations of all that real estate is that this large, mostly rural county generates nearly 30,000 tons of organic waste per year. Abiding by a philosophy of 'recycle first', the county's solid waste authority had the vision to build a composting facility more than twenty years ago.
For the last seven of those years, Bill Hilling has served as director of the Horry County Solid Waste Authority, and is in charge of managing the Horry County composting facility.
"We try to recycle everything we can here," Hilling explained. "And that includes organics. We take in roughly 25- to 30,000 tons of yard waste per year, and rather than putting it in the landfill, we transform it into compost and sell it back to the market. This facility is very well thought of in the community."
As yard waste is collected, it is first processed through a grinder before being windrowed for curing. Piles are turned weekly, monitored for proper temperature, and are watered as needed to keep the organic processes at optimal levels. Hilling added that total aging time is typically 60 days, but weather can impact their results somewhat.
"We keep our process strictly organic, and don't add anything to the piles. So our outcomes can be dictated a bit by the weather... we can have some very hot or very wet or very dry cycles, and the composting process gets affected by that."
After curing, the compost is screened to remove the plastic residue left from the initial grinding of the source material. "Most of our source material comes in through the yard waste collection program, and a fair amount of that is still bagged," explained Hilling. "We simply grind the material in the bag for efficiency, and pull that black plastic out again during the final screening."
In 2013, it was becoming quite clear to Hilling and his team that their nearly two-decade-old turner had outlived its value.
Turning over a new leaf
With a growing facility, stronger demand for their product, and a much more educated consumer base, a better, more efficient turner would justify itself quite quickly. After a multiple-month research effort and a thorough bidding process, a Backhus model 17.50 was ultimately purchased.
"We did exhaustive due diligence, and visited a number of other sites to see the various options perform," said Hilling. "We saw the Backhus run a couple of times, and overall our staff was most impressed and pleased with how that machine delivered. After we confirmed the specs, the price and the performance, the purchase was a very smart investment for the county."
"We noticed right away that the Backhus has great visibility. You can see out of it really well which makes the turning process much easier to navigate."
Operating in a cyclically wet and rainy environment also created challenges that the Backhus helped to overcome. Hilling continued: "This model is a tracked machine, and we work in an area that can get a lot of rain. Our previous turner could get stuck pretty often in the mud, but this machine has no issue at all. We've had no downtime since we got it."
Horry County's final product is a very high-quality soil amendment that is then sold back into the community. With a population that skews toward retirement-age residents, Hilling says the demand is strong.
"We have a lot of retirees that live here, and they tend to do an excellent job keeping their yards and landscapes looked after, so not only does that generate a lot of yard waste, it drives demand for our finished product as well," said Hilling.
Because of such a high interest in what they do, the county has done an excellent job providing educational outreach opportunities to the community as well. Hilling agreed that the popularity of the facility has had some unexpected benefits. "We go around to all the home shows and hand out bags of compost, and we do a two-day grow workshop here every year that is well attended. We sell our product for $20 a ton, and our residents come with everything from a five-gallon bucket to a hitch trailer to take it home."
With the early success of the composting process, the county has since expanded their organics recycling to include a broader intake of yard waste with a wider mix of end products beyond just the compost production.
"We offer grinding services, take in land clearing debris, and clean demolition wood. We process the clean wood for boiler fuel, and make a mulch product from the land clearing waste. It really is a multi-value facility."
Hilling has found his involvement very rewarding, having come from the hauling industry. He says there is much to manage and plenty of headaches, but admits he loves how the community has embraced their efforts – and the people aspect of the facility is what makes the job so enjoyable.
"We really work to support our relationship with the community, and try to deliver more than just an organic recycling service. A group of four of us here went and took the master gardener program at Clemson Extension (Clemson University, SC) so we could learn more and be able to share that experience and understanding with everyone who comes to us. It really is a community undertaking."