Aerobic system turns organic waste into plant food in less than one hour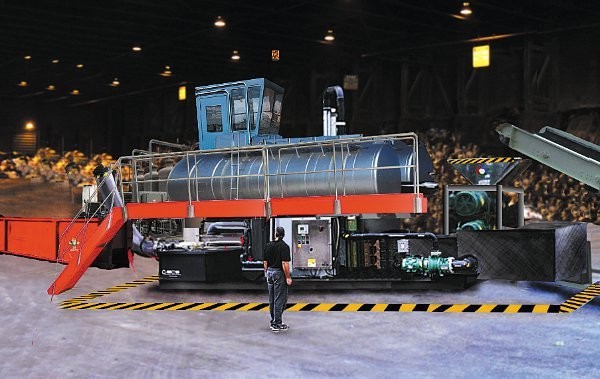 In 2011, Ecologico-Logic, a Nevada-based green technology company unveiled a prototype of their state-of-the-art waste reduction system, known as "The Muncher". The company says their new technology's primary purpose is to reduce the weight and volume of all organic waste as well as many types of inorganic waste, and that it is faster, greener and more cost-effective than any technology currently in use. It achieves its high-volume throughput by combining mechanical efficiency with powerful, naturally occurring, aerobic microorganisms in a patent-protected process that greatly accelerates waste digestion, with no environmental damage.
According to Ecologico-Logic, the Muncher will turn organic solid waste into nutrient-rich plant food in less than one hour, compared to composting which can take from 45 days to a year. These units produce no toxic gases, hazardous compounds or foul odours and will not pollute landfills or aquifers. Plus, the Muncher reduces the actual volume of waste by 75 to 80 percent – one ton of garbage is downsized to about 600 pounds of solid cake mulch and liquid effluent.
Ecologico-Logic says their technology can extend useful life of dwindling landfills by seamlessly integrating into daily transfer station and landfill operations, and it can save money on tipping and transportation fees, all while shrinking a company's carbon footprint.
"We think this new technology is a game-changer," said Mohammed Memon, Ecologico-Logic's COO and co-founder, who also said his company was talking with a number of cities and privately owned waste management companies in the U.S. and internationally. "It has the potential to completely transform the waste management industry," he said.
Company info