Eriez Provides Free Educational Resources and Training via Orange University Program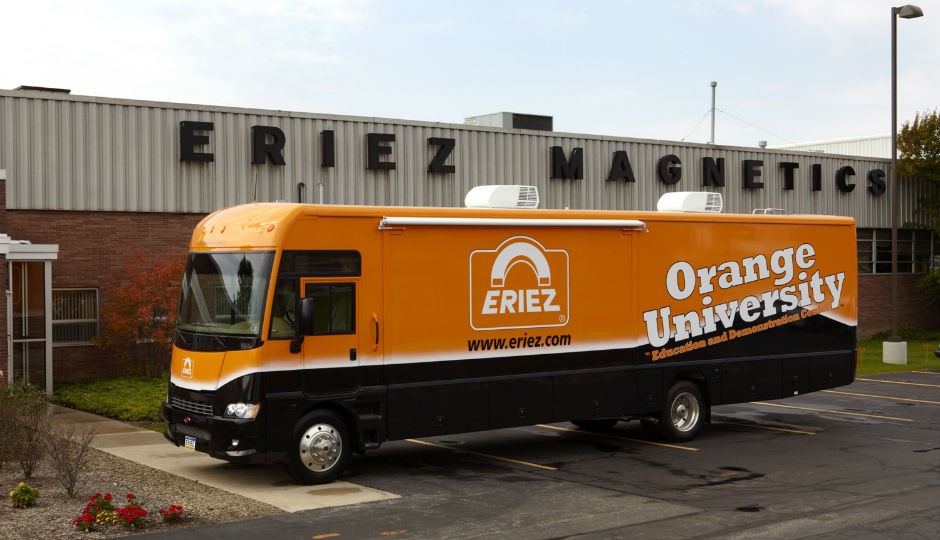 The Eriez Orange University Program gives Eriez customers access to a wide variety of free educational resources, tools, testing and training opportunities. Orange University includes the Mobile Training and Education Center and the Eriez Technical Center, in addition to online components such as selection/specification calculators, a literature library, newsletters, magnet safety information, articles and more.
The Orange University Mobile Training and Education Center is a 38-foot Winnebago filled with equipment and resources to facilitate hands-on learning at customers' facilities. The Orange University Mobile Training team continually travels throughout North America, tailoring each experience to help participants find the most economical solutions to their unique product purity and/or material handling processing challenges.
Established in 1964, the Eriez Technical Center is the most complete laboratory facility of its type anywhere in industry. The Technical Center has evolved over the last several decades from simple proof-of-concept testing to more detailed testing that brings solutions to customers' problems before major plant investments. It houses more than 150 types of permanent magnetic, electromagnetic, mineral processing, flotation, vibratory, screening and metal detecting equipment in a constant state of testing, evaluating and refining.
The Orange University Program also encompasses a number of online elements. Downloadable calculators can aid in specifying and set up of certain production equipment, regardless of the manufacturer. The Eriez literature library contains product brochures, flow charts, selection guides, parts lists and more in PDF format.
EriezOrange University offers free subscriptions to Orange Connect industry-specific e-newsletters. These newsletters are published on a regular basis and typically feature customer testimonials, white papers, product information and technical articles pertaining to the particular industry category. Select back issues are stored online for convenient reading anytime.
The Eriez website features a broad assortment of additional Orange University educational resources and information. This includes magnet safety guidelines, reprinted articles authored by Eriez experts, case studies/testimonials and much more.
To access Orange University online resources, visit http://www.eriez.com/Resources/Index/.