Carbios achieves milestone in its controlled biodegradation process for disposable soft plastics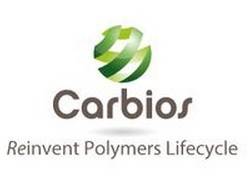 -Carbios a green chemistry company specializing in breakthrough technologies dedicated to the recovery of plastic waste and the production of bio-polymers, took a new significant step forward in the development of its controlled biodegradation process for disposable soft plastics.
With its innovative process, Carbios obtained completely biodegradable plastic material in domestic conditions. This plastic material issued from anoil-based polymer and an enzyme has a controlled kinetic that loses 50% of its mass in 15 days and completely biodegrades in less than three months. This results underlines that the technology of Carbios is an effective industrial answer to address the legal evolutions to better control the end-of-life of disposable and short life plastics
With the support of its longtime partner VALAGRO, the co-owner, along with the CNRS (the French National Centre for Scientific Research), of the Patent Application WO 2013/093355 A1 called "Method for preparing a polymer/biological entities blend,"whose exclusive worldwide license was acquired by Carbios,the companywill draw on this success and continue to develop its controlled biodegradation process for disposable soft plastics.At the end of 2013, Carbiosmanaged to preserve catalytic activity of enzymes after adding them to plastic material and exposing them totemperatures as high as 338°Fto its composition.
Today's step forward allows Carbios to consider commercial applications on a global scale for this material, including in the agricultural sector, particularly formulching films, and in the packaging industry, especially for disposable food, another strategic market targeted by the company.
"We are proud of this new breakthrough, which emphasizes the synergy between Carbios and our academic partners as well as the efficiency of our approach and which will bring us one step closer to an industrialized process. This significant advance shows that we can envision an expansion of Ségolène Royal's amendment,without jeopardizing France's environmental goals orthe plastics industry's ambitions," concluded Jean-Claude Lumaret, CEO of Carbios.