New GDR 400 from Genesis Attachments Fits 40 to 55 Ton Excavators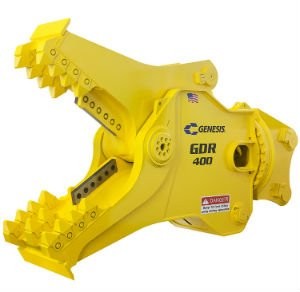 Genesis Attachments expands its Demolition Recycler concrete processor product family with the new GDR 400.
Fitting 40 to 55 ton excavators, the GDR 400 features a 48-inch jaw opening and 41-inch jaw depth, making it the line's most powerful all-purpose processing and cutting attachment for high-reach and standard demolition as well as road and bridge applications.
"The availability of the GDR 400 concrete processing attachment positions Genesis to better serve the project spectrum of demolition contractors worldwide, from small with our GDR 150 to now the largest projects with the 400, " says Chad Wood, Genesis new product development engineer.
The GDR 400 is available with concrete cracker or concrete pulverizer jaws, each of which minimizes dust, noise and flying debris while maximizing productivity.