Density Sort Air Table can boost fines value by more than 20 percent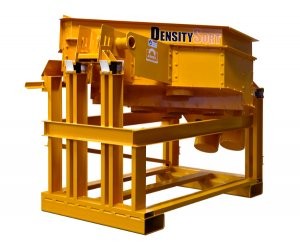 The economical DensitySort Air Table recovers 70 percent of red metals from nonferrous fines, according to Eriez, the technology's manufacturer. The unit sorts nonferrous fines into two fractions: Twitch (light fraction) and Zebra (heavy fraction). Nonferrous fines from automobile shredders typically contain eight to 12 percent red metals. By further separating these metals, processors can increase their fines' value by more than 20 percent.
The innovative DensitySort uses air, vibration and slope to separate metals of different specific gravities. Material is fed at the low point of the table's slope. Its own specific mass directs the particles into low density or high density collection bins. Middlings are collected and recycled back into the process. DensitySort is hassle-free and eliminates the need for sand, water or filtration. With its ability to significantly improve the value of users' fines, DensitySort delivers payback in as little as six months.
DensitySort is available with an optional skid-mounted air system. The recommended air system includes a heavy duty 60 horsepower, energy efficient blower. Eriez recycling industry specialists work with every customer to select the right equipment options for their needs.
or the Eriez YouTube channel: www.youtube.com/eriez.