Subscription-based container monitoring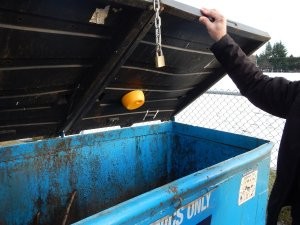 Enevo ONe is an advanced sensor-based monitoring service designed to help optimize logistics. The core component of the system is a battery-powered wireless sensor that can measure fill-levels in different types of containers and tanks. The sensor is able to measure any type of solid or liquid material, as well as temperature and sudden movements of the container. Measurements are transmitted wirelessly via GSM-network to the Enevo ONe server.
Using advanced algorithms Enevo's server can forecast when the container will be full/empty, calculate when the container should be collected/filled and which route is the most efficient to take when driving from one container to another. By optimizing logistics based on measurements and forecasts, companies can save significantly in logistics costs and utilize their vehicle fleet more efficiently, avoiding the collection of half-full containers.
Enevo says their system also works particularly well for textiles recycling, as it detects both movement inside a container (to guard against thieves) and temperature (to indicate a smoldering fire.) Enevo charges a monthly subscription fee per container. This fee covers the sensor, data transfer and access to the company's web service.