Flexible impact crusher can be converted to jaw or screen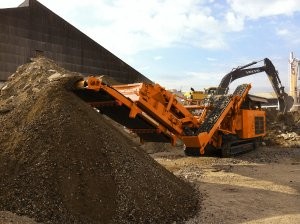 Rockster's new R1100DS impact crusher reaches an output up to 400 t/h, and can be ordered with a screen/return system consisting of screen box and return belt, thus providing one mobile plant capable of both crushing and screening. With its double functional return system, patented by Rockster, the return belt can be used as a stockpile conveyor with a discharge height of approximately 4 metres (13.12 feet).
Dismantling for transport is not necessary, which reduces set-up and tear-down times, and through the use of a screen box and return belt users can produce final material to exact specifications. Rockster says the R1100DS' recently developed multi-function display allows the crushing gap to be adjusted hydraulically and continuously, so final material can be defined simply and easily, and thus an exact screening curve is guaranteed.
Plus, conveying velocity continuously adapts the crusher load and the operating pressure of the main conveyor, which prevents overload and downtime. If necessary, the vibrating feeder can be infinitely controlled manually via the remote control. For easy accessibility, via hydraulic cylinders on the screen box, these plants can be quickly and easily lowered for maintenance and exchange of screens, and for connection and disconnection of the main belt.
Moreover, the main conveyor can be easily serviced or repaired by the new main conveyor belt service device, and a permanently installed device carries the belt and keeps it in position, so users have easy access. Additionally, optional main belt wear protection increases the life of the main bands significantly.
The easily adjustable material protection forms a bed for deceleration and deflection of the material to be crushed, thus reducing the direct charge of the main belt. The R1100DS is also "duplex-able", like its predecessor, the R1100D. With Rockster's patented DUPLEX system, the R1100DS can be converted in a few hours from an impact crusher to a jaw crusher.