Combi E8 screening plant designed for North America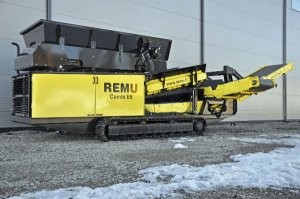 The Finland-based company REMU has introduced a new screening plant for U.S. markets. REMU specializes in developing screening plants specifically for topsoil, but the company says their latest re-engineered solutions will increase screening capacity and add value to professionals working with different materials, from topsoil to compost and many other materials.
The Combi E8 is a non-clogging screening plant for preparing topsoil and processing various waste materials. New re-engineered solutions have increased screening capacity, with a wider 950 mm (3 foot, 1 inch) screening table and a new 3 cubic metre (4 yd3) feeder unit. Depending on configuration of the screening element, blade spacing can be 15 mm to 100 mm (5/8- to 3 inches). Grain size of screened material is approximately 8 mm (5/16-inch) smaller than blade spacing, and screened fines will continue to the fine material conveyor while overs will be conveyed to the side of the plant.
Operation of Combi 8 screening plants is based on rotating blades. Different from other star screens, REMU says the blades of their screening plants are always made from wear-resistant steel. A powerful 74-hp (55.4 kW) CAT C3.4B engine is the heart of the Combi E8, and a large engine bay and double doors provide easy access to service points. The structure of the Combi 8 is very compact, but it can reach capacity of 300 m³/h (400 y³/h), and both conveyors can be folded up for transportation.
A range of options are available, including: a second screening element; fragmentor; magnetic separator; remote controller; fertilizer and limestone feeder; air compressor; electric generator; feed hopper tipping grid; filling pumps; and a central lubrication system.
Related products