Scrap chopper model 450 DDX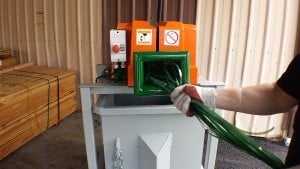 The Sweed scrap chopper model 450 DDX is the latest in Sweed's line of scrap choppers, replacing the 450 WM XHD Dual Drive unit. The Model 450 DDX boasts robust power alongside dual-drive feedworks. Driving both feed rolls on the chopper allows the unit to process scrap quickly and efficiently, making it suitable for chopping common manufacturing scrap such as large amounts of plastic strapping (even if in a tangled state) as well as high volumes of 3/4-inch steel banding with clips and light gauge baling wire.
The Model 450 DDX chopper features a one-hp motor and added mass on the flywheel, which allows for additional cutting capacity. It is capable of feeding many scrap pieces simultaneously and feeds at approximately 120 FPM. The unit's one stationary and one rotating knife provide a cut-length of about three inches, and a wide infeed makes feeding effortless for the operator.
The new 450 DDX is also very versatile, making it an excellent chopper to be customized for in-line productions such as slitter line and tube and pipe applications that require speed and tension control, or custom scrap cut lengths. Units can be mounted on a sturdy stand that moves from area to area on stout caster wheels, and which is designed specifically to sit over a self-dumping hopper.
According to Sweed, additional benefits of scrap choppers include: reclaiming space for production, because compacted scrap requires much less room to store than uncompacted scrap; a reduction in Worker's Compensation claims, since employees only handle scrap once and it isn't left on the ground in large hazardous piles; and improved housekeeping. Sweed Machinery
Company info
Related products