Komptech introduces range of new machines and Bio-Basket XL at IFAT 2014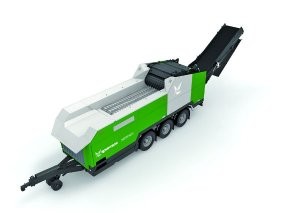 At this year's IFAT – the international trade fair for water, sewage, waste and raw materials management – held yearly in Munich (May 5-9, 2014), Komptech is presenting four new machines. Also on display will be the company's new Bio-Basket XL, which allows biomass processors to get more fuel product out of green cuttings, while reducing their own fuel consumption.
Komptech says the centrepiece of this year's IFAT presentation is the Axtor 6010, the "little brother" of the proven Axtor 8012. Ideal for biomass processing the Axtor 6010 provides dual functionality. While in fast-running shredder mode, it generates material for composting. In slow-running chipper mode it makes fuel for heating plants. Depending on the input material, the Axtor 6010 chips or shreds with shredder blades. Units are available as a three-axle trailer, tractor-trailer or tracked version.
Komptech's new, third generation Topturn X compost turner (shown right) continues to be available on a wheel or track chassis, and has been updated to improve operator comfort, controls and maintenance, and reduce emissions to meet the latest standards.
The Crambo shredder (designed for wood and green waste), standard with hydraulic drive, is now also available in a mechanical-drive version with automatic transmission.
Lastly, Komptech says their Hurrifex is a new class of machine that combines the benefits of the company's Stonefex and Hurrikan technologies, performing windsifting and stone separation in one pass. This makes the Hurrifex especially suitable for composters and green-cutting processors who have to battle not just stones but also plastic contaminants in order to turn out a clean fuel product.