Odyssey automated front loader and CNrG tailgate introduced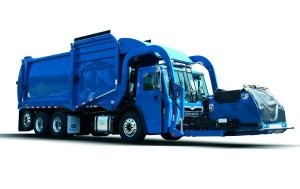 Heil has introduced the new Odyssey automated front loader (AFL), a lighter, more efficient, purpose-built residential front loader collection vehicle, which the company says, represents the next level for automated front loaders. "Customer feedback is essential to our R&D and engineering, and many of the features on the Odyssey were developed or enhanced based on what we hear from operators," said Jayson Thorp, Heil's residential product group manager.
According to Heil, Odyssey's unique features truly set it apart from other automated front loader trucks. This purpose-built, dual-route residential and commercial AFL delivers a refined hydraulic and electronic control system, requiring less maintenance than previous systems, and its innovative design eliminates 120 pounds over the front axle.
Plus, a redesigned fork cradle significantly reduces side-to-side shake, and when used in "residential mode" the system prevents a front can from reaching the cab and cab shield. The Curotto-Can (shown above) can be easily attached and removed to the front forks for exceptional versatility, and is controlled via singular multifunction joystick. Improved operator controls also manage an AutoLift feature, as well as an InSight Diagnostic Display which keeps drivers constantly aware of vehicle status.
CNrG tailgate introduced
Heil also recently introduced what the company is calling a revolution in CNG fuel delivery. The new CNrG (pronounced "synergy") tailgate integrates CNG tanks, typically found on the roof of a collection vehicle or along the frame rails, into the tailgate. Heil says this placement shifts the weight distribution to the rear of the truck, lowering the load placed on the front axle.
The CNrG tailgate on a residential or commercial front loader also reduces overall vehicle height by 12 inches when compared to a roof-mounted system, and the tailgate placement allows a truck to carry between 45 and 105 DGE without the need for a split system.
Company info
2030 Hamilton Place Boulevard, Suite 300
Chattanooga, TN
US, 37421

Website:
heil.com
Read more
Related products