Primary shredder changes material capability with the push of a button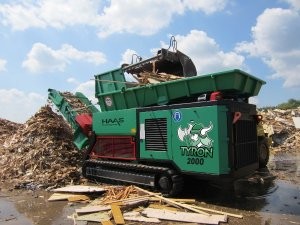 According to Germany-based manufacturer HAAS Recycling Systems, the TYRON Twin Shaft Primary Shredder is an ideal solution for shredding and volume reduction of a very large range of material, including everything from waste wood, railway sleepers with or without iron plates, and domestic, industrial and bulky waste, to mattresses, paper rolls, roots and green waste. Depending on tool and shaft configuration the HAAS TYRON achieves a final product size of 6 inches to 19 inches.
One key advantage of HAAS' TYRON technology is that all materials can be shredded with the same shredding tool. If for example mattresses need to be shredded first, followed by waste wood, it is possible to change the shredding program of the machine by simply pressing a button and continuing the disintegration process without any delay.
Three standard programs are pre-installed for the shredding of waste wood, green waste as well as domestic, industrial and bulky waste. A fourth program can be configured by the customer for the disintegration of difficult material. Each shaft is driven by a separate hydraulic motor with a separate hydraulic gear box, making it possible to drive each shaft separately with respect to rotations per minute as well as rotation direction.
The HAAS TYRON is also equipped with a special cleaning system that avoids the problem of wrapping of long material parts such as plastic film, airfoil, mattresses or composite panels around the shafts, which can lead to machine blockages. The TYRON shafts reverse in an asynchronous manner guaranteeing the self-cleaning effect, even when shredding difficult material.
The HAAS TYRON is available in stationary and mobile version in three different sizes, with shaft length ranging from 1,500 mm (4-feet 11 inches) to 2,500 mm (8 feet 3 inches). The unit features remote control operation, sound insulation, functional display (multi-language), and is available on a hook lift frame, on tracks or on trailer-mounted, with additional options.
Units are diesel-driven, and use refined HES (HAAS Energy Saving) technology, running with different revolution speeds depending on the charge factor, achieving a diesel saving of about 25 percent. In stationary installations the HAAS TYRON is ideal as the first shredding step in a recycling line. In this scenario, an optional, separate drive unit can be placed independently from the machine itself.
Company info
Related products