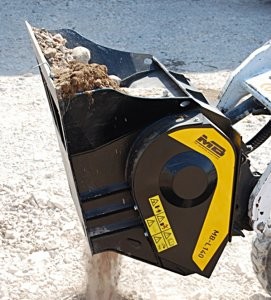 Italy-based MB S.p.A., now offers two smaller versions of the company's flagship crusher bucket series MB-L, suitable for loaders, skid steer loaders and backhoes.
The new models, the MB-L120 and the MB-L140, complement the already extensive range of MB products, adapting to all skid steer loaders from 2.5 tons and backhoes from 5 to 8 tons. Units are designed small, compact and easy to handle, and can offer a very high standard of productivity.
Made with the same materials and the same technology as proven MB crusher buckets, the new MB-L is ideal for those in crushing and recycling applications who want to optimize time and resources. Units are designed for easy transport, are compact and versatile, and are straightforward to use and suitable for all sites and applications.