Terex Environmental launches TBG 640 Horizontal grinder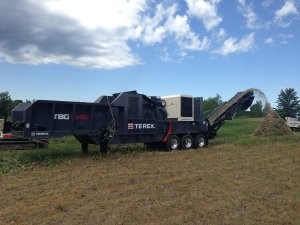 Commenting on the launch of Terex Environmental Equipment's TBG 640 Horizontal Grinder, available as of March 1, 2014, Marty Dummigan, TEE Global Product Line Director, said; "We are excited to be launching the new TBG 640 for both the wood processing and recycling markets. We have listened to our customers throughout the design process and the TBG 640 has some unique features and specifications which, we believe will establish the product as a class leader in the industry."
The Terex Environmental TBG 640 Horizontal Grinder is manufactured and designed for high performance and strong product reliability. Units feature user-friendly controls, good fuel efficiency, ease-of-maintenance, and easily accessible components.
The TBG 640 is ideal for biomass and bioenergy applications, as well as for recycling yards and landfill grinding. Units use a 65-inch wide, 34-inch diameter hammermill, and provide a 41-inch high, 63-inch wide infeed opening. As with all Terex Environmental equipment, these grinders are complete with the latest generation engines to meet global emission standards. A standard 700-hp engine allows for production capability between 300 to 400 yards per hour in green waste applications and 400 to 500 yards per hour in scrap wood recycling.
Additional key features include: a unique Engine Load Management System; heavy-duty design for extended service life; quick and easy screen changes; and a tail conveyor position that can remain folded and PTO belt tensioner for ease-of-maintenance.
Related products