12-gallon green bin for curbside source-separated organics collection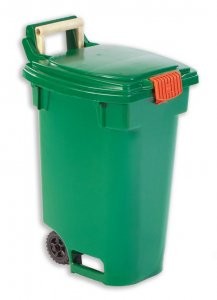 Orbis' new Green Bin2 has been introduced in response to rising demand for a smaller, more appropriately sized container to collect source-separated organics in residential and commercial applications. The 12-gallon cart is designed for easy storage and collection of food scraps, to help municipalities encourage community residents to divert more food waste from landfills.
According to Orbis, The Green Bin2's 360-degree double rim closure and secure front latch not only eliminate spills and trap odours, but combined with the lid lock, will minimize animal entry. The Green Bin2 is made from durable, BPA-free and recycled high-density polyethylene (HDPE) and is fully recyclable. Units include an optional telescopic handle; available, optional reflectors; side holds to keep organic collection bags in place; recessed casters for easy transport to and from the curb; and available hot stamping.