Enviro-Drum in-vessel composting system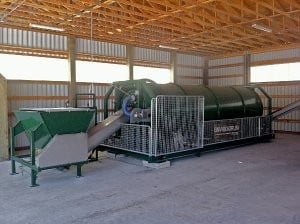 The DTE Enviro-Drum was developed in 2007 for the processing and stabilization of organic wastes, including dairy manure, food scraps, biosolids, septic, and other compostable materials.
With the ability to accelerate the composting process, users are able to maximize available land space in a controlled environment. Materials can be processed for unrestricted use in as little as three days, and with the associated shrinkage and shortened curing period, the required footprint can be reduced by 75 percent or more. With its unique air flow management system, all odours are fully contained and can be easily directed to a biofilter, allowing for installation in high population density areas.
By providing a controlled environment, which can easily manage leachate and emissions, the Enviro-Drum is an attractive complement to static piles or windrows in institutional settings such as universities, hospitality, corrections and others.
Built to last with extra heavy-duty components, DT-Environmental in-vessel composting systems are custom-designed to meet unique goals and needs of end-users, making it possible to affordably process and recycle organic waste on site. By eliminating transport costs and tipping fees, institutions can save money and help close the loop on their waste streams.