Remote monitoring for Rotochopper grinders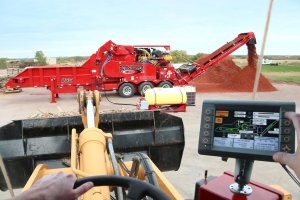 The new remote monitoring system for Rotochopper grinders puts real-time monitoring and adjustment capabilities right into your loader cab or onto your office desk. Not simply a wireless remote, this system puts the full functionality of the main grinder controller at your fingertips anywhere within wireless range of your grinder.
Tracking production rates and input materials (such as water and mulch colourant) in real time helps ensure a uniform finished product at the lowest cost per cubic yard or ton. Live data and adjustment capabilities include production rate, feed speed, and engine data, such as RPMs and fuel consumption.