Driver Assist Systems provide seamless acquisition and integration of weight data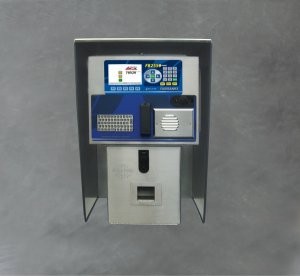 Kansas Missouri based Fairbanks Scales, Inc., a world leader in weighing technology, offers three complete driver-assist systems ideal for automating vehicle weighing and identification at landfills, transfer stations, quarries, recycling plants, and other material-handling operations.
Tailored to meet the unique needs of individual customers, the innovative terminals and systems improve weighing operations due to their simplicity and seamless acquisition and integration of weight data, saving operations time and money.
Fairbanks' new, state-of-the-art, attendant-free FB2550 Driver Assist Terminal allows the driver to interact with the terminal without ever leaving their vehicle, speeding the vehicle weighing process and reducing operating costs. The FB2550 also eliminates safety concerns and liability that can occur when drivers walk across scale platforms and traffic lanes. A color touch screen, large text and numeric keys, as well as simple-to-understand prompts facilitate and speed operation. The FB2550 also features built in Ethernet connectivity that easily interfaces scale transaction data with a company's existing computer network.
The FB3000 II Remote Terminal Unit is designed to facilitate driver assisted weighing. Mounted on a pole or wall at the scale platform, the FB3000 II RTU allows drivers to enter information without having to exit their vehicles. The FB3000 II RTU offers the most field configurable driver assist weighing solution on the market today, is the most advanced remote terminal instrument available offering an optimal weighing experience and packed with features that meet industrial weighing requirements.
The Fairbanks Access Solutions Entry Station greets vehicles arriving at a site with a visible and audio prompt. The Entry Station quickly captures essential transaction information and sends it to the MatreX Processing System, a centralized processing and database system that processes transactions from any number of Access Entry Stations and relays real-time information to the driver. Data from multiple stations can be consolidated into customizable reports or exported to billing systems. The system includes a number of useful and user-friendly features. It can process credit card transactions while operating unattended and is easily integrated into existing management systems. The NTEP-certified terminals have a variety of available options, including long-range RFID readers to identify vehicles, security cameras, and much more.
Founded in 1830, Fairbanks Scales has become a leader in the industrial weighing market by creating and manufacturing an unrivaled range of weighing equipment solutions. From bench, parcel, counting, floor, and truck scales to animal, railroad track, and a full range of specialty scales, Fairbanks Scales has a reputation for being the most agile and attentive industrial weighing partner in the business.
Headquartered in Kansas City, Mo., the company says they are also uniquely positioned to provide services for non-weighing products based on its nationwide contingent of technicians who can provide preventive maintenance and consistent, reliable service.