2011 Canadian Waste & Recycling Expo success in Montreal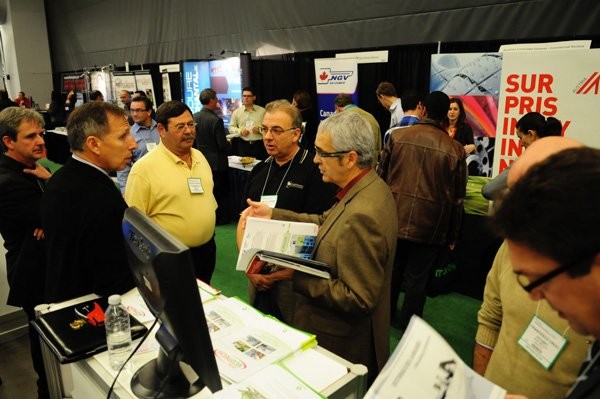 The 2011 edition of the Canadian Waste & Recycling Expo (CWRE) was held November 9 to 10th, for the first time this year in Montreal.
CWRE is Canada's only trade show serving the waste, recycling and public works markets. This year, at the 14th edition of the show, the event showcased 182 exhibitors from Canada, the United States, China, The Netherlands, Austria, Germany and Italy, and focused on all aspects of collection, hauling and processing of waste and recycling materials. In addition, the show welcomed a total of 2,259 attendees from 18 countries who experienced the products, services and technologies offered by exhibitors, learned about industry innovations and networked with peers during the many special events.
"Having the show for the first time in Montreal proved to be a big success," said Arnie Gess, Consultant for Messe Frankfurt Inc. "Quebec has a huge waste & recycling market with several industry-leading manufacturers that showcased their equipment at the show".
Returning to the show this year was the Canadian Waste Sector Symposium (CWSS), produced by the Ontario Waste Management Association (OWMA), in cooperation for 2011 with RESEAU Environnement and the Council of Environmental Services Industry. The 2 ½ day CWSS event included three facility tours and 1 ½ days of sessions covering a variety of the most relevant topics facing the industry.
"The 2011 Canadian Waste Sector Symposium (CWSS) in Montreal was a huge success - over 280 registered delegates enjoyed three tours (11 facilities), six keynote and over 44 speakers in total. The CWSS in just two years has become the focal point for the waste management sector across Canada to meet and discuss important and emerging sector issues," said Robert Cook, Chief Executive Officer, Ontario Waste Management Association (OWMA).
"The Symposium provided an excellent networking opportunity," stated Raj Rathamano, Manitoba Conservation.
The Council of Environmental Services Industry also hosted the first ever EnviroLys 2011 which celebrated excellence in the environment sector. Six awards were handed out including CEO of the Year presented to Keith Carrigan of BFI / Progressive Waste Solutions.
Responding to feedback from key exhibitors and manufacturers in the industry, the 15th edition of the Canadian Waste & Recycling Expo will return to Toronto, November 14 – 15, 2012 at the International Centre in Toronto, Ontario, Canada.
Some comments from exhibitors:
"We got good leads - real leads. It was an effective expo!" Jay Arkison, Sales representative, Mailhot Industries.
"We had a great show, got a lot of leads and this is why we exhibit at CWRE." Marcie Weber, FleetMind.
"The quality of visitors and prospects were excellent." Jackie W. Barlow, II Vice President Paradigm Software "CWRE offers our company a means to reconnect with our current customer base and establish new customers all in one convenient location."
Some comments from Attendees:
Colin Smith, McDonalds Restaurants of Canada Limited: "I have met with new suppliers and was introduced to many new products and services. I enjoyed the show enormously."
Peter Maurmann, COO, GEEP Global: "The Canadian Waste & Recycling Expo allowed me to see some of the latest products and newly improved ones as well. I will return to CWRE."
Wayne Kemp, Owner, Pure Resources: "I have learned a lot about the new products and new ways of applications for the services through the many new suppliers I have met. This year's event was both informative and enjoyable."
Hal Wilson, Owner, Air & Water Systems: "Really enjoyed the show! It is a great networking opportunity."
Rob Caldwell, Director of Operations, Scotia Recycling Group: "Another great event, especially for the first time in Montreal."
Kevin Metcalfe, Stantec Consulting International Ltd.: "It was a very good trade show - met all my expectations. Well done."
Visit www.cwre.ca. for more information about the Canadian Waste & Recycling Expo.
Messe Frankfurt is Germany's leading trade fair organiser, with 448.3 million euros in sales and more than 1,600 active employees worldwide. The Messe Frankfurt Group has a global network of 28 subsidiaries, five branch offices and 52 international Sales Partners, giving it a presence for its customers in more than 150 countries.
Events "made by Messe Frankfurt" take place at more than 30 locations around the globe. In 2010, Messe Frankfurt organised 87 trade fairs, of which more than half took place outside Germany. Messe Frankfurt's exhibition grounds, featuring 578,000 square metres, are currently home to ten exhibition halls and an adjacent Congress Center. The company is publicly owned, with the City of Frankfurt holding 60 percent and the State of Hesse 40 percent. For more information; www.messefrankfurt.com
Company info
3200 Windy Hill Road, Suite 500 West
Atlanta, GA
US, 30339

Website:
cwre.ca
Read more