Conveyor belt scale designed for durability and accuracy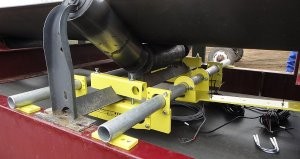 The Precision Conveyor Belt Scale – model M100 – is designed for both durability and accuracy, and is ideal for applications in recycling. Belt widths range from 18 inches to 72 inches, and units provide up to 10,000 tph, and up to 1,200 fph. Accuracy is from ±0.25 percent.
Features of the M100 belt scale include: large LCD graphical display; stainless steel display enclosure; four bi-directional communication ports; a digital I/O for totalizer; and optional alarm outputs. Rate and speed time are displayed by the hour, minute or second, measurement is displayed in feet or meters, and unit of rate is displayed in tons, pounds, kilograms, metric tons, or long tons.
In 2013, Edmonton-based Precision Scale celebrated their 50 year anniversary in business.
Company info
Edmonton: 7217 Girard Road. Edmonton, T6B2C5
Calgary: #7, 10 Wrangler Place. Rocky View, T1X0L7
AB
CA,

Website:
precisionscale.com
Read more