NEMUS 2700 Screen is an updated hydraulic trommel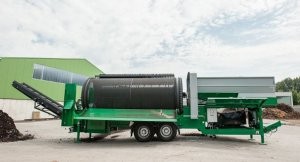 Komptech, a leader in "Hybrid" screens, says that while the latest technology has increased efficiency and added production, there are customers who prefer hydraulic screens over "high-tech" trommels.
For this reason Komptech has developed a new hydraulic trommel built around the proven technology of the company's Mustang model.
The Nemus 2700 hydraulic trommel includes higher throughput with better material flow through the drum as well as a new hopper design with steeper side walls for less bridging. Units also include an updated hopper drive for better performance and lower conveyor wear, and a fine collection discharge belt can be mounted on either side and eliminates spillage that results from a two part discharge system. These trommels provide the ability to use drums from competitive machines, and feature a new easier control arrangement. Other key features include: a reinforced chassis with stronger axles and brakes and wider tires; longer fines and overs conveyors for higher piles; a one-piece cleaning brush for complete cleaning of the drum
While the focus in development of the recently introduced Cribus series trommel was on operation costs, with the Nemus Komptech says, the focus was on purchase costs. Komptech says the goal of adding technological advancements while keeping the purchase cost the same as their previous model hydraulic trommel screens was achieved with the Nemus 2700.
Company info
Related products