Heil launches 23-yard Half/Pack Freedom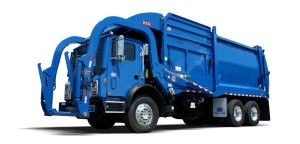 Heil Environmental recently announced the launch of a new 23-yard model of their Half/Pack Freedom front-loading refuse and recycling collection vehicle. Known as one of the lightest, most durable front loaders on the market, the Half/Pack Freedom is now offered with the option of a smaller body and shorter wheelbase, perfect for maneuvering through narrow streets and alleyways and around MRFs, transfer stations, and dump sites.
According to Heil, the increased maneuverability of the smaller body of the 23-yard Half/Pack Freedom delivers cost savings, especially when used for residential applications. When equipped with a Curotto-Can automated carry-can on the front forks, the Freedom becomes an automated front loader, transforming the vehicle from commercial pickup to residential curb-side pickup.
Heil says the benefits of using an automated front loader for residential pickup include: more stops picked up per day; increased fuel efficiency; decreased downtime; enhanced safety for the operators who are always looking forward; and the ability to see exactly what is being dumped into the hopper to minimize contamination.
To ensure the Half/Pack Freedom maintains its long-term durability, Heil has equipped it with an innovative load-control system called the Heil Optimal Payload System™ or HOPS™. HOPS uses axle scales, accurate to within two percent, to determine the vehicle's gross weight. When a driver is on-route collecting containers, he receives a warning light in the cab when the gross vehicle weight nears the maximum allowable weight. Once the maximum allowable weight is reached, HOPS prevents the operator from collecting any additional containers by demobilizing the front forks.