Eriez 76 Vibratory Feeder is largest in company's line
76 Series Vibratory Feeder developed with customer and field data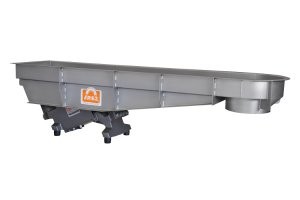 Eriez' new 76 Series Vibratory Feeder, the largest unit in the company's expansive line-up of compact vibratory feeders, offers all of the same features and benefits of existing models in a supersize design to meet larger application requirements. The 76 Series Vibratory Feeder was officially launched at PACK EXPO 2013.
"Some trays are too heavy for existing models and it is not always practical to use multiple drives," says Rob Yandrick, Product Manager—Vibratory/Screening. "The 76 Series Vibratory Feeder offers a solution and fills a void in the market. It satisfies larger application requirements and enables increased overhang. There is nothing else quite like it available today."
According to Eriez, the introduction of the 76 Series Vibratory Feeder is a direct result of input from customers and sales representatives.
"Listening to customers and responding to their unmet needs through the development of new and innovative product s gives us a competitive advantage and helps us maintain our leadership position," explains Yandrick. The 76 Series Vibratory Feeder supports trays up to approximately 175 lbs. and is available in all standard voltages.