Compact Stroke shredder/grinder
Designed for processing applications that don't require a larger feed area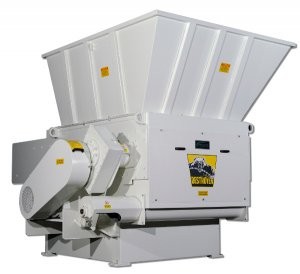 The Cresswood HF-60 'Compact Stroke' (CS) single-shaft, low-rpm "DESTROYER" shredder/grinder offers recyclers all the latest engineering updates, but is packaged in a smaller footprint, with both space and cost-saving advantages. Designed for processing applications that don't require a larger feed area, the ram stroke in the CS model is decreased by 10 inches, which allows material more efficient movement to the cutterhead, providing increased machine throughput.
Additionally, the HF-60 CS is equipped with a large-diameter 16-inch rotor. As recovered scrap material is reduced, the larger rotor vectors a greater volume of material through the screen area for final sizing.
"From a processing standpoint, our selection of the larger rotor increases your total output of finished product, and creates more uniform particle sizes, with Cresswood's exclusive tight-fitting screen configurations," explains Jack Cress, CEO, Cresswood Shredding Machinery.
The HF-60 CS also incorporates the most recent advancements in Cresswood's sustainable EVER-NEW Technology design initiative. In order to improve grinder reliability, an enhanced seal between the cutterhead and frame now protects the main bearing from contamination and damage. This unique one-piece seal bolts in place, and is fully replaceable to extend machine life and durability.
Additionally, to facilitate grinder maintenance, and to provide personnel with convenient access to the machine for wear-part replacement, the HF-60 CS features new covers for seals and wear plates.