Vertical balers offered in galvanized version with food-grade oil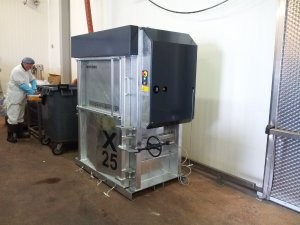 Bramidan recently announced that they are now offering all vertical baler models in a galvanized version that uses "food grade" oil. This means there is no rust, and the balers can be placed outside, in wet environments, and in locations such as kitchens. Bramidan says the benefits of a galvanized surface compared to a special painted or a stainless machine include less expense than a stainless machine and longer life.
Due to its capability for use of food grade oil these machines can be placed in a kitchen without risk of health violations. Shown here is a Bramidan X25HD low profile baler. The machine is only 79 inches tall, and makes a 550-pound cardboard bale.
The X25HD is a low profile baler that runs on three phase power. It presses with over 55,000 pounds, over a small ram face, making the pressure per square inch higher than a standard mill-sized baler. Additionally, the baler has a very deep ram penetration, making the machine excellent for aluminum cans and plastic. Plus, Bramidan says, it will make a very dense OCC bale.
Bale size is 48 x 30 x 30. With cardboard, each bale weighs approximately 500 to 650 pounds. Units also feature dual cross-cylinders which means that there is no cylinder sticking up through the baler, and no cylinder to raise when installing. All Bramidan balers come with a full bale indicator light and a fully automatic ejection system.