MACH ONE 3D Finishing Screen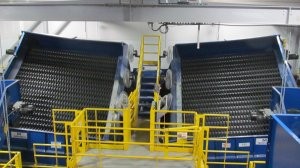 Located at the junction of the paper line and the container line in a single-stream collection system, the Machinex Mach One 3D Finishing Screen separates material into three streams: remaining fine particles, containers and mixed paper.
According to Machinex, this separator increases the sorting quality of fiber, containers and fine particles over and above increasing paper recovery, and offers excellent preparation of containers for sorting downstream. Units feature up to four decks with multiple screening speeds ensured by frequency regulators, and independent adjustment of tilt angles for foot and head sections to increase final separating efficiency.
This disc screen also tilts to the side, and uses high-friction fin discs – metal discs that can be added to the beginning of the first section to remove remaining glass. Additionally, the machine's Screening surface is tilted on two planes and is hydraulically adjustable. Units are ideal for sorting single-stream materials as well as fiber, MSW, commercial waste, and as a single screen in a low-volume system.